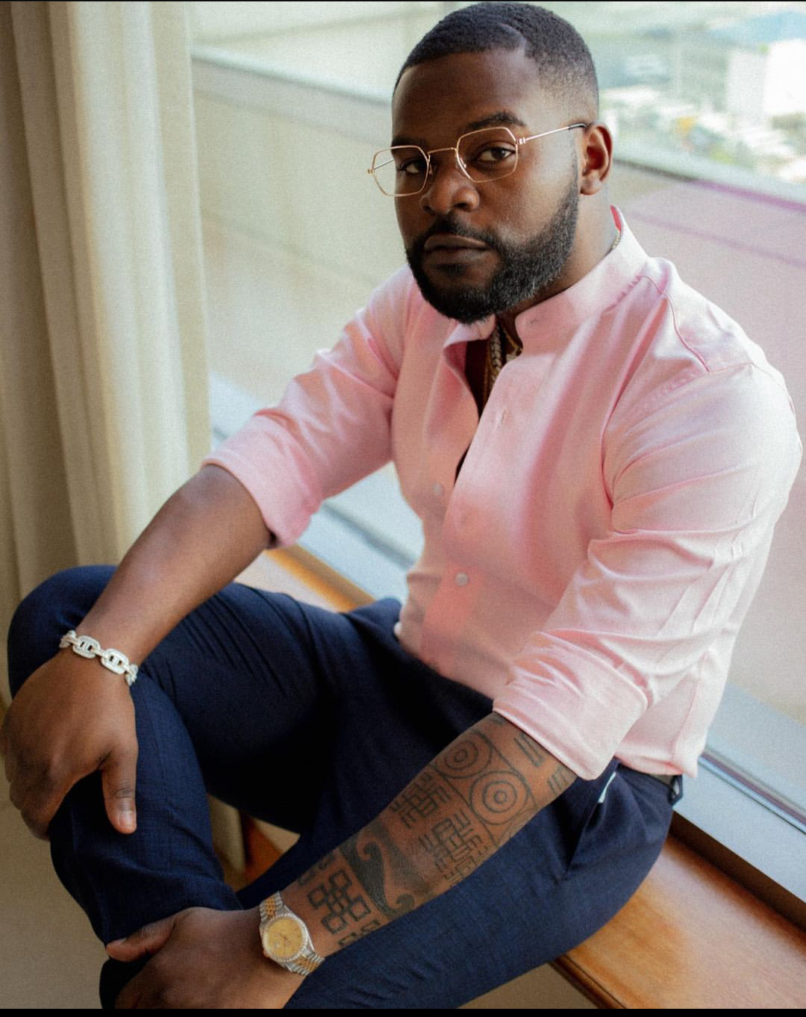 As the federal government continues to fight the war against drug abuse, the National Drug Law Enforcement Agency (NDLEA) on Tuesday, 27th September destroyed 1.8 tons of cocaine recovered by its personnel from a warehouse in the Ikorodu area of Lagos State.
A few days back, precisely Sunday, 18th September 2022, operatives of NDLEA busted a major warehouse located at 6 Olukuola crescent, Solebo estate, Ikorodu Lagos where 1.8 tons (1,855 kilograms) of cocaine were stored.
The cocaine seized from the warehouse is worth more than Two Hundred and Seventy-Eight Million Two Hundred and Fifty Thousand Dollars ($278, 250,000) equivalent to about One Hundred and Ninety Four Billion, Seven Hundred and Seventy-Five Million (N194, 775,000,000) Naira in street value.
According to reports, four drug barons including a Jamaican and the warehouse manager who are members of an international drug syndicate that the NDLEA has been trailing since 2018 were apprehended.
Read Also: Alec Baldwin Pens Appreciation Note To His Family, Says They 'Kept Me Alive' After My Heart Was Broken
The NDLEA took to the media to reveal what has been done to the substances recovered.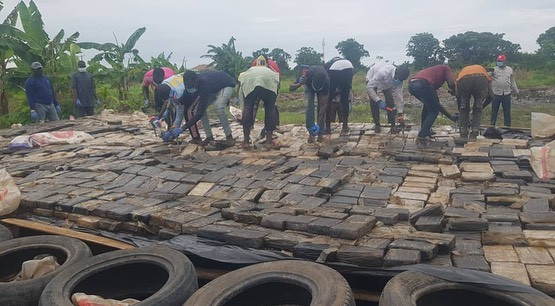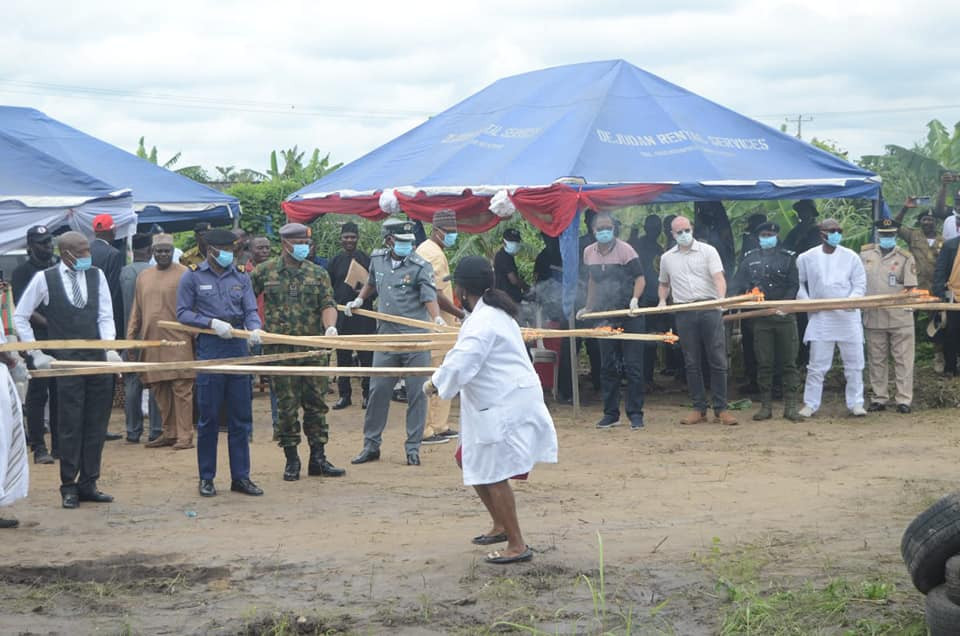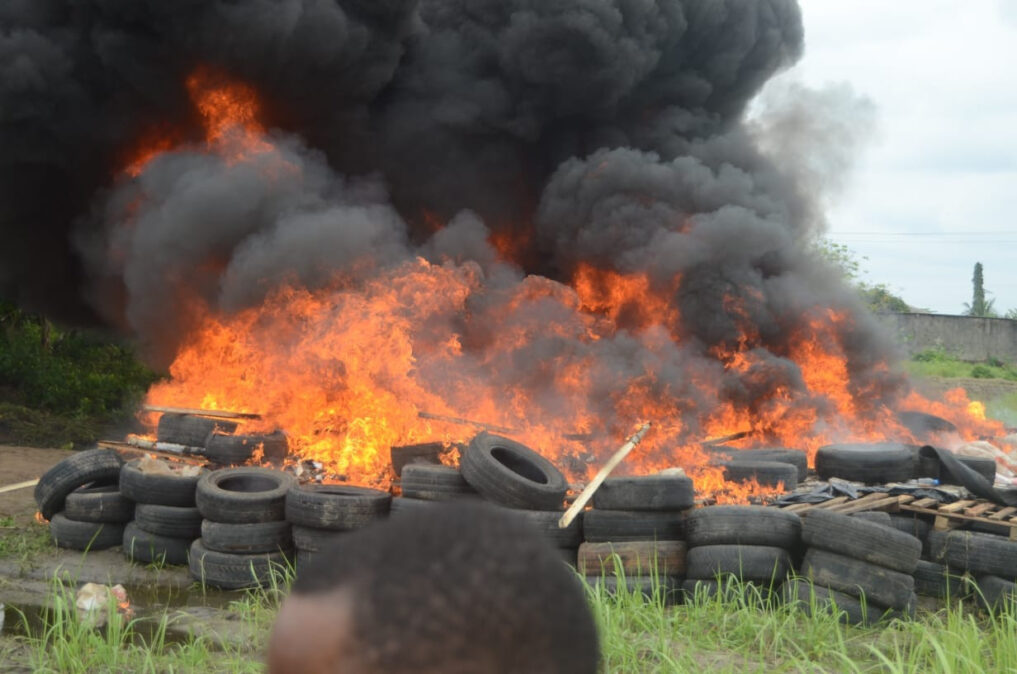 Reacting to the news of the Nigerian singer, Folarin Falana better known as Falz knocked the present administration ruling the country and said they "must really think Nigerians are daft".
According to Falz, evidence are not meant to be destroyed as this points to unprofessional conduct by the NDLEA. He wrote,
"This administration must really think that we are daft sha!! What is this lamba that the NDLEA is giving with this cocaine seizure saga? Dem dey burn evidence?"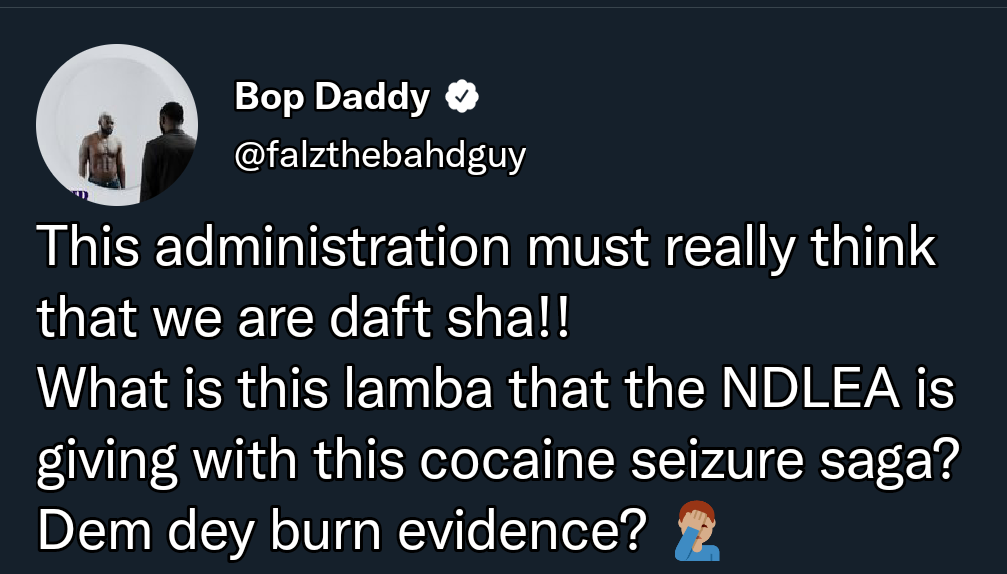 Reacting to the action by NDLEA,  Netizens feel something else could be done asides from destroying them. Read reactions below,
Saint Tynii: Hustle o, so you no go dey lie to yourself in the name of burning something wey no dey there.
Jay: Burning keee…this is the height of corruption.
Classic: Nigerian govt would've sold this and used the money to build the nation. Usa does it all the time.
Mouthpiece: This is the height of corruption. Nobody can ascertain the contents of the rubbish being set ablaze. No proper investigation to get more suspects and lack of transparency. Why the hurry to burn when investigations are still going…in fact so many questions.
Jerry: Una dey craze NDLEA who una dey fool? Exhibits to jail the barons you have destroyed before prosecution.. Amoda yansh go still open with E money and Co….Oloriburuku
Bee: My own problem is "won't the people in that vicinity get high by just inhaling the smoke?"
Ben: Kudos to Gen. MB. Marwa and NDLEA personnel. May God continue to guide and protect you and give you victory against this war on drugs.
Joe: Why set it ablaze? Coke has medicinal use. Was the environmental impact on neighboring residents analyzed? Think not
Read Also: Hailey Bieber addresses rumors she 'stole' Justin Bieber from Selena Gomez