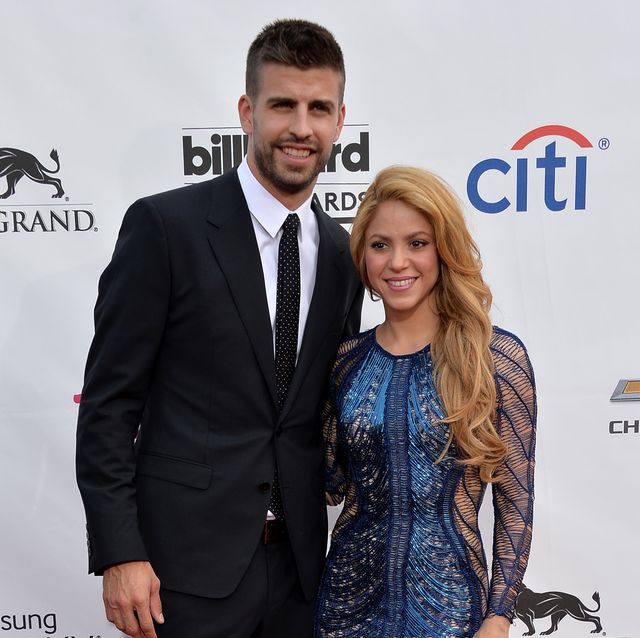 Colombian singer, Shakira Isabel Mebarak Ripoll has broken her silence following her shocking split from Spanish footballer, Gerard Pique after twelve years of dating due to infidelity.
Shakira, 45, who shares two sons; Milan, 9, and Sasha, 7, with Pique, addressed the sudden breakup for the first time in an in-depth interview with Lulu Garcia-Navarro for Elle magazine's October. She said,
"Oh, this is really hard to talk about personally, especially as this is the first time I've ever addressed this situation in an interview".

"I've remained quiet and just tried to process it all. Um, and yeah, it's hard to talk about it, especially because I'm still going through it, and because I'm in the public eye and because our separation is not like a regular separation. And so it's been tough not only for me, but also for my kids. Incredibly difficult."
Though they never married, Shakira and Piqué's separation in June 2022 came as a surprise to fans. Though Pique was already in a new relationship with 23-year-old PR student Clara Chia Marti
The "Hips Don't Lie" singer and the Pique first confirmed their relationship in 2011, after meeting on the set of the superstar's music video for the 2010 FIFA World Cup anthem "Waka Waka (This Time for Africa)."
The mother of two also famously wrote her 2017 hit "Me Enamoré" (I fell in love) about the soccer star.
During their romance, Shakira and Pique lived in Barcelona so that the soccer star could continue his professional soccer career at FC Barcelona. However, moving to the United States would have been better for Shakira's singing career.
Read Also: Top Celebrity Couples Who Are Currently Expecting A Child
She went on to say that the constant spotlight on her personal life has been difficult for her family.
When asked about how she came to understand that their long-term relationship was over but refused to comment on her ex's new romance, she said,
"I think that those details are somehow too private to share, at least at this very moment—everything is so raw and new. I can only say that I put everything I had into this relationship and my family".
She also went on to talk about having a 'nomadic life' and settling down in Barcelona in favour of Pique's soccer career instead of moving to the US which was best for her music career. She said,
"And so, one of the two had to make that effort and that sacrifice. And I did it. I put my career in second gear and I came to Spain, to support him so he could play football and win titles. And it was a sacrifice of love.

"Thanks to that, my kids were able to have a present mom, and I have this amazing bond with them that is unbreakable and that sustains us. You know, that is it. That's all I can say".
Shakira also talked about how difficult it has been on her and her sons, especially after her father was rushed to the hospital back in June after a 'bad fall'. She said,
"Yeah. I try to conceal the situation from them as much as I can. It's really upsetting for two kids who are trying to process their parents' separation. And sometimes I just feel like this is all a bad dream and that I'm going to wake up at some point. But no, it's real.

"And what's also real is the disappointment to see something as sacred and as special as I thought was the relationship I had with my kids' father and see that turned into something vulgarized and cheapened by the media. And all of this while my dad has been in the ICU and I've been fighting on different fronts.

"Like I said, this is probably the darkest hour of my life. But then I think about all those women around the world who are going through hardship, who are going through a situation as bad as mine or as difficult as mine or worse.'
Talking about the need to serve as a strong example for her kids, she said,
"So you ask me how I manage this. And I just manage, I guess, reminding myself that I need to become an example for my kids, that I need to be what they want, what I want them to become.

"And I want to be there, also, for all the people who have shown me their love and support. That is my biggest strength. That's my most powerful engine right now".
According to the Spanish newspaper El Periodico, Shakira and Gerard are trying to remain friends for the sake of their children, despite their relationship being strained.
The split announcement followed rumours in the Spanish tabloids that the couple were on the verge of breaking up with sources claiming he had cheated on the star.
Shakira's statement read:
"We regret to confirm that we are parting ways. For the well-being of our children, who are our highest priority, we ask that you respect their privacy. Thank you for your understanding".
The Spanish outlet also reported that the couple have been living separately for a few weeks after Pique was kicked out of the family home by the pop star.
According to sources, Pique has since been living a 'party lifestyle' in a bachelor pad and enjoying nights out with his teammates.
Read Also: Rita Dominic And Husband, Fidelis Anosike Reportedly Welcome Twins In The UK