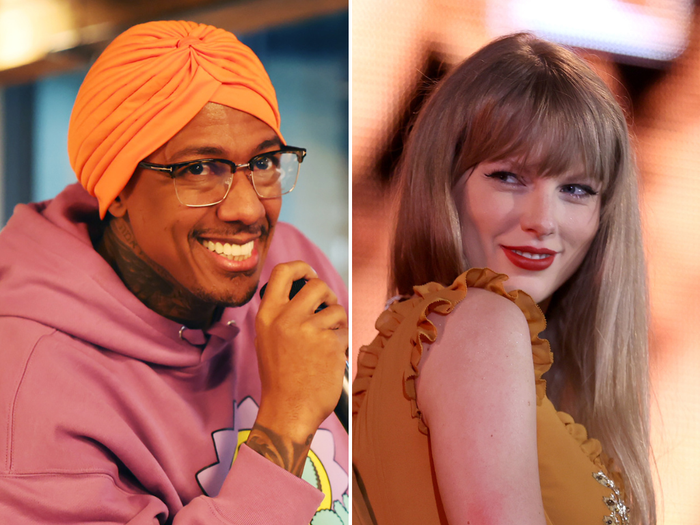 Allegations have been made against Nick Cannon for harassing Taylor Swift following his public declaration of his desire to father his thirteenth child with her.
During his recent appearance on The Howard Stern Show, Cannon, who has 12 children with six different women, disclosed the name of the celebrity he would like to have another child with. Cannon is 42 years old.
Read Also: Nick Cannon says he loves all his baby mama's but Mariah Carey is a 'gift from God'
When speaking on celebrity baby mamas and Swift, Cannob, 42 said
'That's the one. That… I'm all in,' as Stern's co-host Robin Quivers asked Cannon what it was about Swift that made him say that.

'First of all, she's an amazing songwriter and what I do love about Taylor Swift is the fact that she has been so open and vulnerable with all of her music since she was a young girl'
He added,
'And, she's kinda like me. Me and Taylor's numbers are very similar when we're talking about being out here in these streets.'

'I think she would relate to me very well, based off of like… yo, you've dated a lot of people in the public eye, so have I, so we probably would really understand each other'
Stern mentioned that it's been reported that she broke up with Alwyn, and Cannon added,
'You know that I know that, Howard. You know my Spidey senses was tingling.'
Stern added he would love it if he had a baby with Taylor Swift, adding he thinks it would be 'fantastic.'
'Me too. I think that would be amazing,' Cannon admitted.
While the comments were laughed off on the radio show, shocked listeners took to Twitter to accuse the actor of 'misogyny and harassment.' They also accused the father of 11 of reducing women to being 'objects' that could bear his children.
One fan wrote: 'Isn't this harassment?? F**k nick cannon. this is do rude & unprovoked. Taylor swift is larger than the world rn & he wants to take that away from her thru reproductive violence like all men who want their women to sit at home & care for babies when they're at the peak of success.'
Others added: 'Imagine if he'd said that The Rock can now carry his baby, or Jason Momoa. He wouldn't, right? Even if they could carry babies. And it's because a man won't violate another man's bodily autonomy without expecting a fight. But a woman? Available to every man, right? No consent?';
'nick cannon needs to leave Taylor swift alone and schedule a neutering'; 'It's troubling that both Nick Cannon and Kanye West have publicly implied sex with Taylor Swift and her consent is not part of the conversation and no one has called them on it';
'nick cannon saying he wants to have his 13th child with taylor swift was NOT on my 2023 bingo card'; This Nick Cannon/Taylor Swift s**t is really really gross.'; To say he'd be open to having a CHILD. Bro, she didn't even say she wanted one, let alone with you. The f**k?
Nick Cannon has 11-year-old fraternal twins named Monroe and Moroccan with his former spouse Mariah Carey, whom he was married to between 2008 and 2014.
Additionally, Cannon has three children with Brittany Bell, namely a son named Golden Sagon (6 years old), a daughter named Powerful Queen (2 years old), and a six-month-old son named Rise Messiah.
Read Also: Why Does Nick Cannon Regret Not Having Children With Christina Milian?