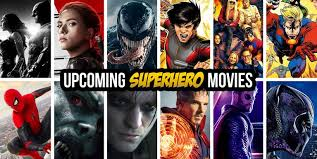 When people hear of Marvel movies what comes to mind is supernatural and amazing movies.
Marvel mostly work hand in gloves with DC and Universal while other times they work alone.
They are known to produce the most amazing movies of all time.
Here are a list of marvel movies to look out for come 2022 and 2023;
1. Morbius
This movie will be released January 28th 2022, the character the joker is back in this mind blowing movie.
Read Also: World Of Movies: Movies You Should Look Out For Come 2022
Jared Leto plays Michael Morbius, a doctor who tries to cure himself of a rare blood disease but in the process imbues himself with vampire-like traits, including a lust for human blood.
2. Doctor Strange in the multiverse of madness
This thrilling movie will be aired on May 6th, this movie is a must watch! If you enjoyed doctor strange am sure you would enjoy this more.
Read Also: 20 Best International Celebrities Photos Of 2021
3. Thor: Love And Thunder
July 8th, 2022, should be indeed memorable as Thor: Love and Thunder,will be aired.
The Asgardian warrior becomes the first MCU hero to get a fourth solo movie.
4. Black Panther: Wankanda Forever
If you think Black Panther one was fun you better get your popcorn ready as November 11th, 2022, will be a day to remember with Wakanda Forever.
5.Spider Man: Into The Spider Verse 2
This thrilling movie will be out on October 7th, 2022 so sit back and allow spidie swing into your heart, just kidding! Enjoy the movie.
6. The Marvels
February 17th, 2023 will be indeed a blast as Captain Marvel will be back in this new movie as The Marvel.
the sequel will see Carol join forces with a now grown-up Monica Rambeau (Teyonah Parris) and Kamala Khan (Iman Vellani).
7. Karven The Hunter
January 13th 2023 will an amazing one, as this movie will be Following in the footsteps of Venom and Morbius, the Sony Pictures Universe of Marvel Characters will continue with Kraven the Hunter.
8. Guardian Of The Galaxy Vol. 3 
This movie will be aired on May 5th, 2023, if you enjoyed the first volume then you will enjoy this also.
9. Ant-Man And The Wasp: Quantumania 
Look out for Ant-Man on July 28th, 2023, the shrinking superheroes will face their biggest challenge yet, with the iconic Marvel villain Kang the Conqueror (Jonathan Majors) making his MCU debut.