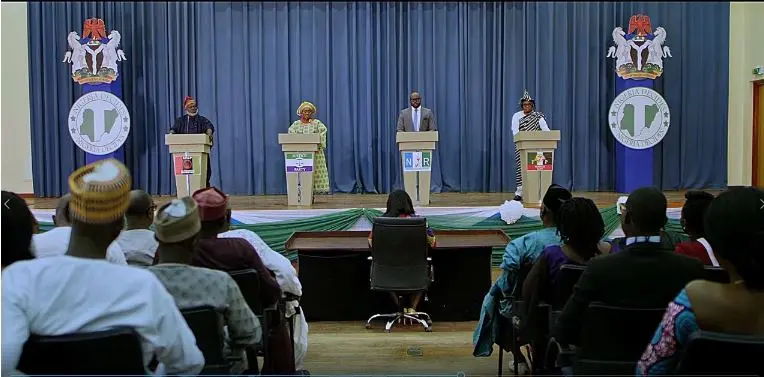 The Nigerian presidential election is scheduled to hold on Saturday, February 25, 2023. As Nigerians await the polls, Glam Squad takes you through three outstanding political movies produced by the Nigerian film industry.
If I Am President
Released in 2018, the movie, which explores the themes of the Nigerian political space and tussle for power, tells the story of a 37-year-old politician, Zinachi Ohams, who defied the odds to campaign for the presidential election under the platform of the Nigerian Rebirth Party, a party comprised of young and idealistic Nigerians who are on a mission to rescue the country from the grip of bad leadership.
Watch the full movie here:
The cast for If I Am President includes Joke Silva, Bob Manuel, Ayoola Ayoola, Rahama Sadau, Bryan Okwara, Ivie Okujaye, Osas Iyamu, Victor Decker, and Ayo Emmanuel.
It was produced by the High Definition Film Studios with support from the John D. and Catherine T. MacArthur Foundation.
In 2019, the movie, which was written by Bright Wonder Obasi and produced by the trio of Osaretin Iyamu, Nnadi Dumkennenna, and Bright Wonder Obasi, won the award for Best Screenplay at the Motion Pictures International Film Festival, Oklahoma, United States.
ALSO READ: HOW NOLLYWOOD CAN CHANGE NIGERIA'S POLITICAL TRAJECTORY
4th Republic
4th Republic is a 2019 Nollywood production. It was produced by the Amateur Heads and Griot Studios, directed by Ishaya Bako, and written by Emil Garuba, Zainab Omaki, and Ishaya Bako. It was also funded by the John D. and Catherine T. MacArthur Foundation and the Open Society Initiative for West Africa (OSIWA).
The film explored themes of electoral violence and malpractice in Nigeria. It is centered around Mabel King (Kate Henshaw), a gubernatorial candidate who fought the outcome of a violent and fraudulent election in court after loosing her campaign manager, Sikiru (Jide Attah).
Watch the trailer here:
4th Republic is part of efforts aimed at curbing electoral violence in Nigeria. It was screened in seven Nigerian universities as part of a collaboration between the Independent National Electoral Commission (INEC) and the Enough is Enough (EiE) initiative.
The cast for the movie includes Kate Henshaw, Ihuoma Linda Ejiofor, Eyinna Nwigwe, Bimbo Manuel, Jide Attah, Yakubu Mohammed, Preach Bassey, and Sifon Oko.
Love Is War
The movie is a 2019 Inkblot and Dioni Visions production written by Chinaza Onuzo and directed by the lead actor, Omoni Oboli.
Love Is War tells the story of a couple (Richard Mofe-Damijo and Omoni Oboli) who contested against each other for the governorship of the same state.
Watch the trailer here:
The cast also includes Jide Kosoko, Yemi Blaq, Bimbo Manuel, Femi Branch, Shaffy Bello, Uzo Osimkpa, Toke Makinwa, Akin Lewis, William Benson, and Damilare Kuku.