Nollywood actress, Toyin Abraham-Ajeyemi has addressed the issues she had with her colleague Lizzy Anjorin after several months of silence.
Glamsquad recalls that the duo have been at loggerheads since 2007 following a series of false rumours allegedly kicked off by a fan.
At the time, Lizzy Anjorin allegedly accused Toyin Abraham of running several Instagram accounts to troll her and her other colleagues in the industry.
She also said Toyin fed blogs with a fake story about her being arrested on her way to Saudi Arabia for carrying cocaine.
The misunderstanding became more intense after Toyin had her baby Ire and Lizzy was accused of not sending a congratulatory message to her. This resulted in a feud between Toyin Abraham's fans and Lizzy Anjorin, who rained insults on Lizzy while Toyin kept mute about the whole issue. This made Lizzy so angry because, according to her, Toyin had the power to tell her fans to back off, but rather, she kept quiet, and Lizzy didn't find her actions funny at all.
Read Also: Oleksandr Usyk defeats Anthony Joshua to retain the unified WBO, WBA and IBF titles
Lizzy went on to release a video where she talked about the fact that Toyin was living a fake life. She also noted that Toyin not only mocked her in the past but spread false rumours about her and called her child an imbecile.
She also said that there were no bad fans on Instagram, pointing out that many of her colleagues opened fake Instagram accounts to troll and attack each other, including Toyin.
However, contrary to all Lizzy had stated, during an Instagram Live session with another colleague, Iyabo Ojo, Toyin said she had never trolled Lizzy with any fake Instagram page or paid bloggers to attack her.
According to Toyin, her fan attacked Lizzy Anjorin, and she also reached out to the fan not to involve her with any social media drama.
Toyin who broke down in tears said she was responding to the issue because she wanted to protect her son and husband as Lizzy dragged them into the issue.
In a new development, Toyin disclosed that she had to involve the Nigerian Police Force in the misunderstanding.
Read Also: Popular clergyman, Kingsley Okonkwo dismisses claims that Jesus is against divorced people remarrying
In a post on her Instagram page, she said it was important for her to make clarifications and share information with the public.
The mother of one noted that following the conclusion of the Police investigation, she did nothing wrong to Lizzy.
She said Lizzy ran with a fan comment which didn't come from her. At the station, the two actresses tabled their grievances and she apologised they have since moved on.
Her statement reads,
"It is important that I make this clarifications and share this information with the public especially after the conclusion of police investigation.

Lizzy Anjorin and I, we no longer have issues. Yes, I had to get the police involved. The investigations revealed that I did not wrong her. She ran with a comment of a fan which did not come from me. At the Police station, we tabled our grievances and she apologised and we have since moved on.

This clarification is important for some reasons and the Police have concluded their investigations and I need to let the public know.

And please, I am begging anything that has to do with me and Lizzy is now in the past. I beg you. And I also want to beg everyone, every child is my child no mater how the case may be please kindly take children out of it. I am on my knees. I am begging, Thank you and love you all. Thank you.

Lastly, I want to say a huge thanks to all my fans for always supporting my brand and loving me unconditionally".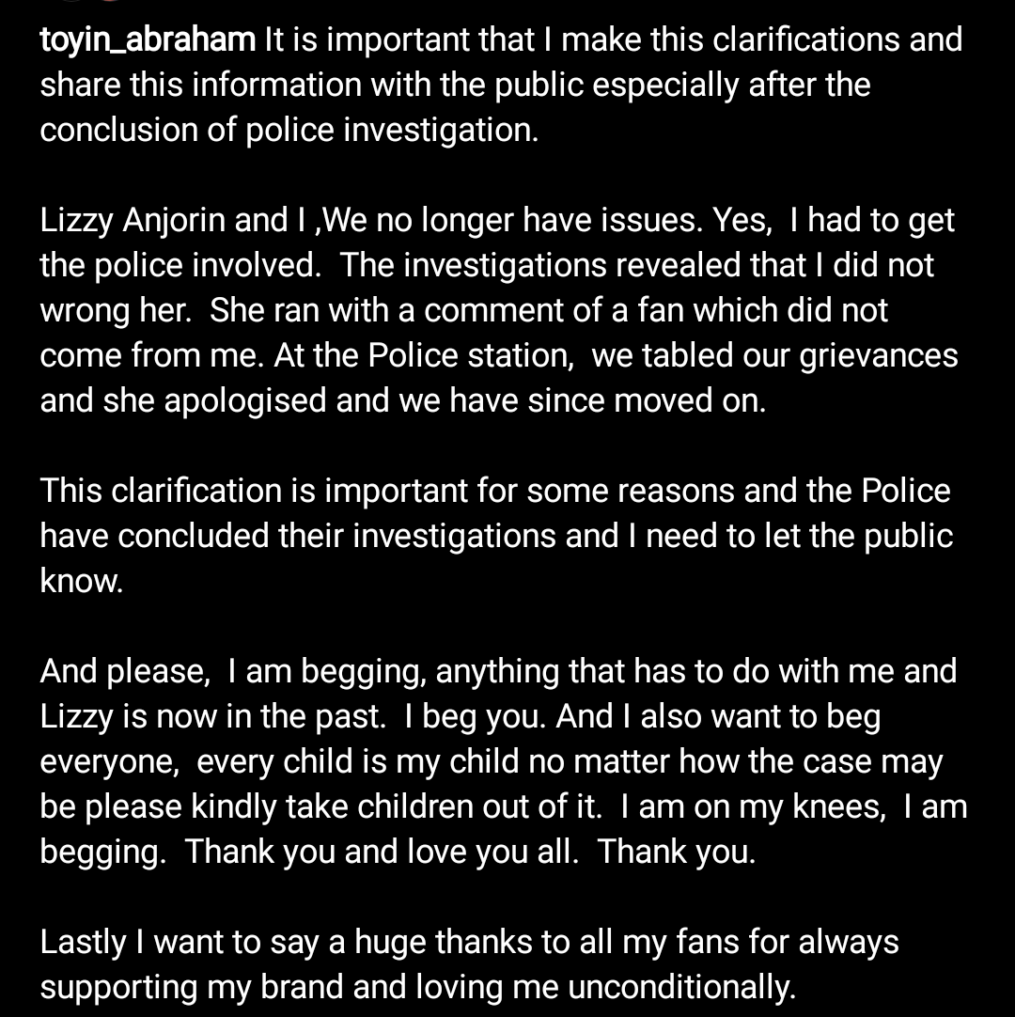 Read Also: "Stop Associating Me With A Thing Of The Past" – Chioma's Ex-Lover, King Carter Issues Stern Warning