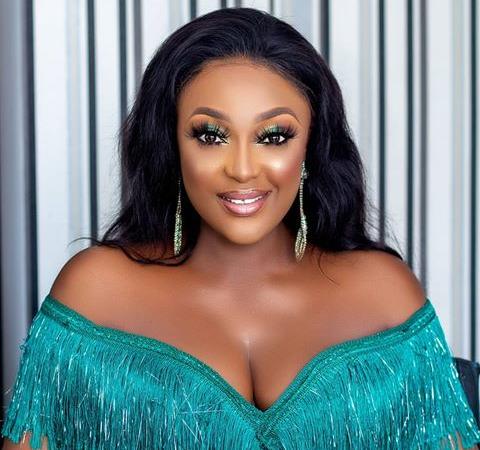 Nollywood actress, Lizzy Gold has celebrated her colleague and best friend, Destiny Etiko on her 33rd birthday.
Taking to her Instagram page she dropped a heartwarming message to her friend as she  described her as a loving soul and someone who cares a lot about people around her.
Read Also: Pastor reveals Beyonce sold her soul to the devil and calls her new song "church girl" a "sacrilege"
She wrote;
"You ve a beautiful heart …if she doesn't hear from me in a day she calls to ask if am ok….A hard worker ….….one who understands me very well….Today I pray for you that as you clock plus one today …heaven will release Her blessings on you.
Happy birthday to my chic @destinyetikoofficial."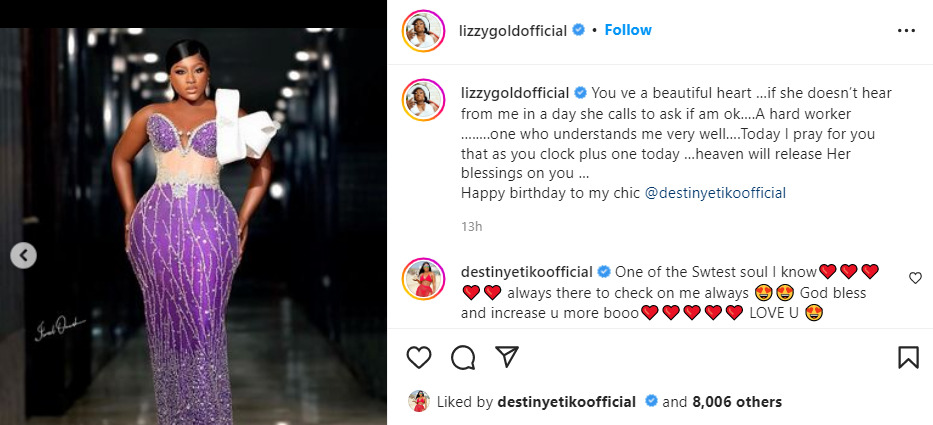 Recall that Lizzy Gold was attacked by arm robber a few weeks back.
The actress took to her Instagram to create awareness regarding the situation, she wrote;
"Please let's be security conscious. Nowhere is safe. Two days ago which is on Sunday, I wrapped up my girlfriend's production. I told them I was leaving for Enugu because I had a job that I was going for. They have been waiting for me for like three days. Destiny, Mary, they told me not to travel.
"I told them I needed to go because there is no movement on Monday. So, I told them I needed to go. And I left. I was in traffic at the head Bridge for like two hours. I successfully passed the traffic. I got to a route you would take to go to Awka. It is usually very fast for me so, I passed the road.

Read Also: Actress, Anne Heche 'Unlikely To Survive' Following Severe Brain Injury From Car Crash

"I met another traffic there. So, I was in traffic for another one hour. It was dark. It was 8.30 pm. All of a sudden, I heard a very loud bang on my side glass window. I was shocked. So I winded down. I was like hello, then a guy came and said, "do you know you are on the wrong lane?" He was trying to bend my side mirror. So I started to beg him."

Recounting further, the 34-year-old said: "I told him I saw other cars passing through the same lane. The next thing, I wanted to wind up and he put my hands down and came in. Brought his head inside. My PA was seated beside me. His partner went to the order side of the window. So, the guy brought his head inside the car and said, if you make any noise, I will shoot you.