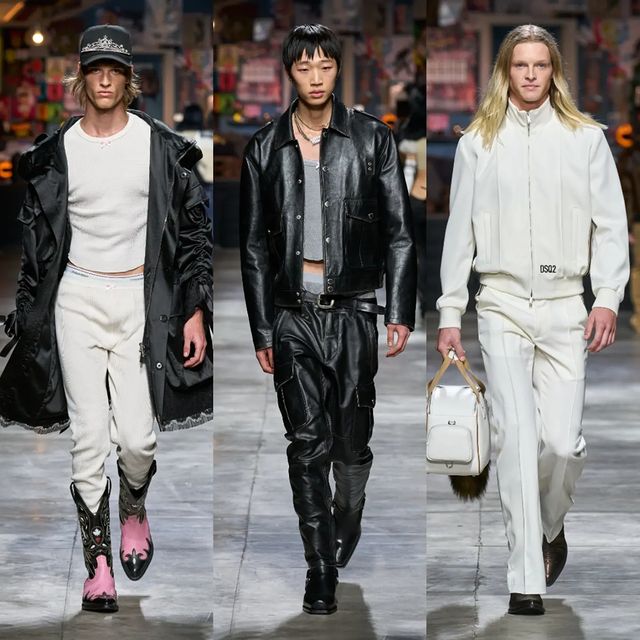 Twin brothers and founder of Dsquared2, Dean and Dan Caten has given their loyal customers something to hope and believe in as they released Menswear Fall-Winter 2023. The design which came in different shades and color was as expected; epic in everyway.
The Dsquared entourage of young people paraded a cast of characters from out of the Catens' college years: the geek, the goth, the starlet, the emo, and the femme, all dressed to the nines in their own broken-up/put-back-together finery.
Read Also: Balmain Pre-fall 2023 Collection
The aforementioned dorm room was really painstakingly recreated as the backdrop of the catwalk, complete with all the hip accessories that have adorned the teenage years of every generation, from X to Y to Z and everything in between. Nic Kaufmann and Jean Carlo Jashlem, two TikTok celebrities, began the performance. This was followed by a raucous stream of lavishly dressed clothes that fully reflected the Catens' mastery of The Art of The Mashup.
It would be insane to try to describe all the different combinations the twins were able to create. In a very rough summary, Western fringed jackets, Canadian outerwear, crystal-studded destroyed denim, cowboy leather jockstraps, ultra-low slung cargos, exposed boxers, teddy bear bombers, lace panties, and see-through camisoles were all fed into their fashion percolator, spit out, and then re-assembled into gorgeously body-revealing crazy ensembles.
Read Also: Lookbook: Gucci Fall 2023 Menswear Collection
See full collection below;