Funke Akindele has warned her followers against an online fraudster using her picture to scam people.
The 43-year-old Nollywood actress shared a post from the scammer's page on Instagram on Thursday.
She said her fans should beware as she is not a party to whatever they do.
The fraudster operates a loan business.
"SCAM ALERT!!! FALSE!!! I'm not a party to this!! Pls beware. Also note that I'm not giving out gifts neither am I doing any give away whatsoever.
"We are also NOT enrolling students into any school of drama of Theatre Group so beware of impostors out there. Thanks," she wrote.
See post below: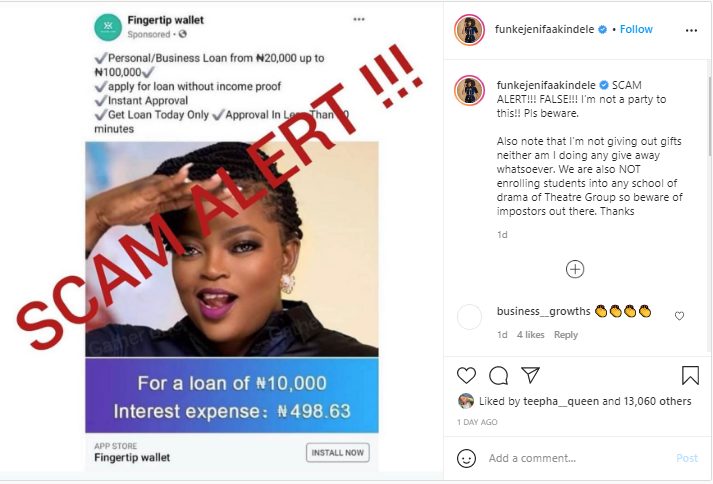 Funke had disowned some fake Instagram accounts promising giveaways in her name in June 2020.
"My attention has been brought to these fake accounts on social media using my name for Giveaways @funkeakindelelife funkeakindelejeniifa.tv funkeakindeleonline I am in no way connected to these accounts. Please help report these pages and beware of fraudsters. Thank you," she wrote.
The Jenifa star issued a similar warning in July 2016.
Meanwhile, Georgina Onuoha, a US based Nollywood actress, who is now a certified medical practitioner has reacted to the feminist post by Pastor Mike Bamiloye, who is also an actor and filmmaker.
While advising women to withdraw their support for the feminism movement, the Mount Zion Ministry's drama leader had said being a feminist can mislead women from the will of God.
"If you are a Single Sister, DONT JOIN THE FEMINIST MOVEMENT! The Feminist Movement May make you miss the Will of God for your Life. If you are MARRIED, don't join them either, IF YOU WANT TO GET THE BEST OUT OF YOUR MARRIAGE. The Feminism want to CONTEST the Head of the Home," he wrote.
However, for Onuoha she is feminist and sees nothing wrong with pastors wives and other women fighting for the right to be treated right.
In a lengthy post she wrote on Instagram, Georgina Onuoha noted that advising women otherwise has in one way or the other pushed them to go fetish (Kayamata) in order to be in control men in their respective relationships.