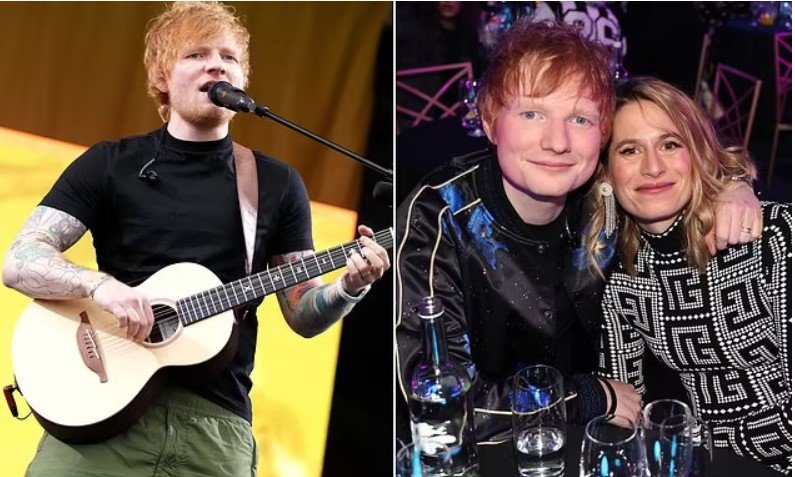 Ed Sheeran's wife, Cherry Seaborn revealed how her husband wrote seven tracks in only four hours in an effort to cope with the devastating news that she had cancer while being pregnant with their second daughter.
In a new documentary titled "Ed Sheeran: The Sum of It All," set to be released worldwide on 3rd May 3, 2023, Cherry Seaborn, 32, opened up about her cancer diagnosis, which she was informed could not be treated until she puts to bed at the time. 
Read Also: My Wife Was Diagnosed With Tumour While Pregnant, Ed Sheeran Reveals On Wednesday When Announcing his new Album
The Disney+ special film features a sobbing Ed Sheeran as he recounts the difficult time he was told about his wife's diagnosis before Seaborn talks about her cancer ordeal in detail.
In the documentary she said,
"Long story short, I got diagnosed with cancer at the start of the year, which was a massive s**tter, but it made me massively reflect on our mortality.

"I was saying to Eds, I'd never have agreed to do anything like this before — never, ever, ever — but it made me think this whole year, if I died, what's people's perception of me?

"What am I going to leave behind? It genuinely wasn't until this year when I was just like, 'I might die".
Cherry Seaborn goes on to reveal how the singer coped with the situation, saying,
"We had the diagnosis of the tumour and the next day Eds went down into the basement and wrote seven songs in four hours.

"Some people write a diary and get their emotions out through the pen and, for Eds, if something really intense happens, he'll go and write a song."
To this, Ed Sheeran explains, "Music's always been like therapy to me. It was a way to get my thoughts and feelings down as a kid, and it works. It really works."
Read Also: Ed Sheeran sings and plays guitar for jury at copyright trial to prove he didn't steal Marvin Gaye song