Following the reveal made by Mavin record boss Michael Collins Ajereh, known professionally as Don Jazzy about his personal life; that he got married to his best friend at 20 and divorced two years later, Michelle Jackson, the ex-wife, has finally opened up about their failed marriage after the news went viral.
According to Don Jazzy, he could not keep up with the marriage because he wanted to focus on his music career.
Many Nigerians stormed Michelle Jackson's Instagram page as she gained over fifty thousand followers after Don Jazzy broke the news.
Reacting to the news making rounds on social media, Michelle Jackson took to her Instagram page to appreciate everyone for their show of love and support.
She also appreciated Don Jazzy and extended family members for their care, love and loyal friends who had kept their failed marriage a secret.
She wrote: Thank you so very much for the intense ❤ you have shown me, along with your beautiful messages, my inbox is flooded right now, and my heart is full I appreciate you.
Thank you also to my wonderful friends and family who have been loyal all these years.
See below: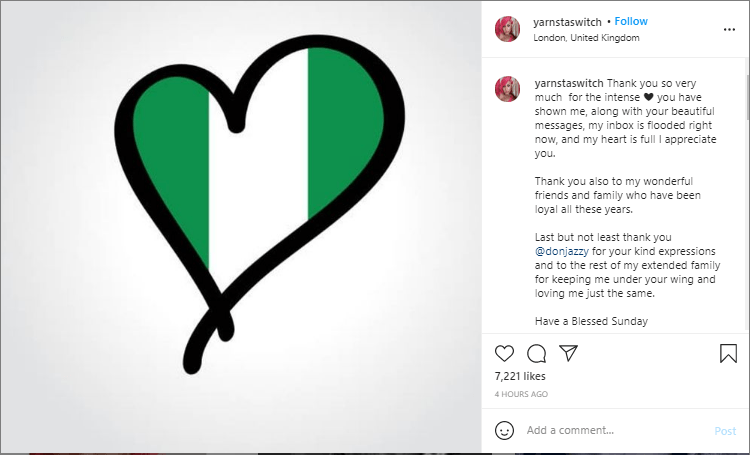 Meanwhile, Nigerian celebrities like – Ebuka Obi Uchendu, Khafi Kareem, DJ Big N and others, have opened up after music executive, Don Jazzy, told the whole world about his failed marriage.
18 years down the line, Don Jazzy took to his IG to spill the secret.
See the reactions from Nigerian celebrities below:
Teddy A wrote, "She's beautiful"
Yetunde Bustline wrote, "Yeah right! I was a wedding guest"
Daddy Freeze wrote, "May your days be blessed with happiness "
Dr Sid wrote, "thank you for saying it o!!!! Now we can stop lying about your marital status"
BBNaija's Khaffi wrote, "I hope it's not too forward to ask if she's married now? Maybe time has passed but the two of you are still meant to be. Genuine question"
OAP Dotun wrote, "When the bebetos would not ask or figure things out properly before making conclusions. The only person who knows their truth is the person in question and if you are in doubt, ask them..you might have known this for many years now but it's not in anyone's place to spill it cos it is personal and if you must speak on it, make sure it is something you know so much about. At the end, make it a date with the horses mouth and make them tell it or speak their truth. Now will open their mouth and say "wow" "are you serious" "I didn't know he was married".. now you know. Don't believe everything you read.. Don't hear, assume, make up your own story and conclude.. kudos Don"
BBnaija host, Ebuka Obi-Uchendu dropped emojis.
BBNaija's Rico wrote, "I guess all music lover/doers have this situation going on in their lives. *sigh I feel more than ever Don baba. I believe the universe will unite you with the woman and music of your dreams, cause you've made people's dreams come true "
Bankuli wrote, "You are a real man and God will never stop blessing you with all your heart desires"
DJ Bign wrote, "Finally."