Music executive and record label owner, Michael Collins Ajereh better known as Don Jazzy has broken his silence on the death of late singer, Mohbad
Don Jazzy took to his Instagram page and shared how sad it is that the late singer isn't here to see all the love from people worldwide.
He further stated that Mohbad shouldn't have had to endure the pain he went through while he was alive.
Read Also: Mohbad: Sam Larry Speaks From Hideout the Second Time, Claims he didn't kill Mohbad
Praying for him, he vowed that the singer would forever be in the hearts of many.
"it's heartbreaking you're not here to witness all the love the world is showing. You did not deserve to go through all that pain. We pray you rest in peace. You will forever be in our hearts imole," Mohbad".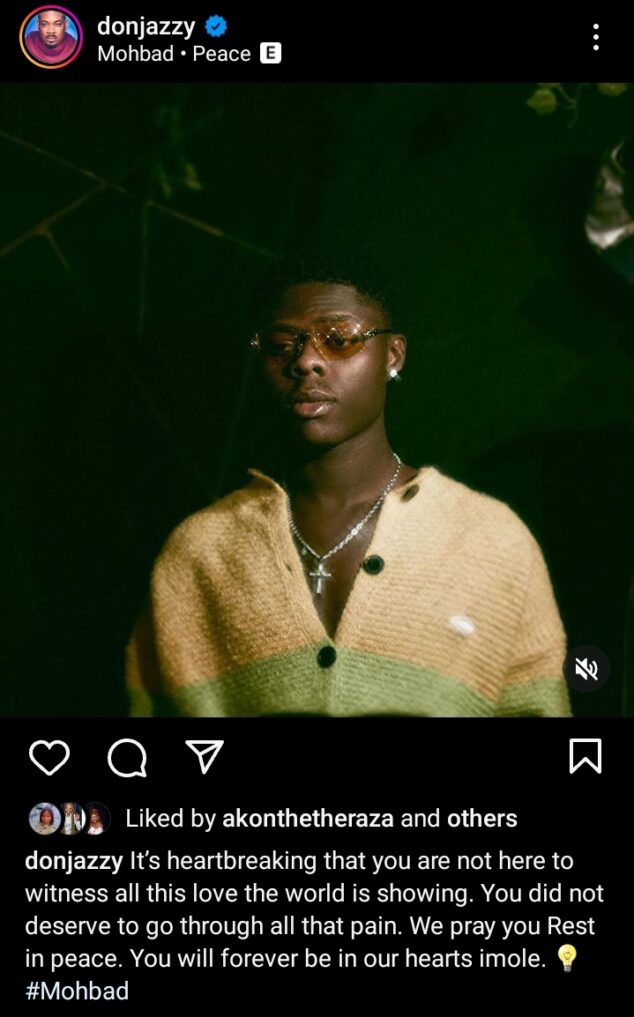 It is worth noting that before his passing, Mohbad had foreseen that people would only show him love once he was gone.
He expressed this heartbreaking sentiment in an unreleased song where he predicted his demise.
The lyrics reveal Mohbad's anticipation of the future, as he ponders the thoughts and words of people when he's no longer with us.
Irrespective of his condolences message, Don Jazzy received criticisms for mourning Mohbad a week after he died.
See comments below,
One Nasi Risaq wrote: "Absolute shame in you, Don Jazzy. How could you express your condolence for someone who died 9 days ago? Wtf
One Blingzzzzz wrote; "Now that you see that it's gained an international audience is when you want to post!! Thunder fire all of una one by one!! Obviously y'all hands are not clean!! If na big yansh Hilda dey cook, all of una go dey run, show love!! Eyin ashiere!!".
One Beebs wrote: "Yomi. Leaders wey no dey protect their own. God came through for Mohbad. Keep your condolence to yourself! Not accepted"
One Adeyinka Basit wrote: "Are you telling me you never knew the boy died all these days?? Make una dey fear God Sha"
One Favour wrote: "Since then na today you dey post am mtchewwwwww"
One Lindsay Marie wrote; "He just died? Fake Love"
One I Am Creeper wrote: "Na now day break because Davido don show, no wahala make una just remember say na the same we dey push ur artist music, without us ur artist na nothing"
May his gentle soul rest in peace
Read Also: Mohbad's body exhumed for autopsy (video)