Nollywood actor, Deyemi Okanlawon has written an open letter to Eti-Osa Honourable-Elect, Thaddeus Attah of Labour Party (LP),  after he defeated Banky W of The People's Democratic party (PDP).
Read Also: "He is a casualty of PDP's reputation" Netizens react as singer, Banky W loses to Labour Party's Attah
Deyemi expressed in his lengthy letter that he cast his vote for Banky W because he believed that Banky W would have been the most suitable candidate for the position.
The actor further expressed his concerns over the high rate of tribal sentiments, cyber bullying, and herd mentality on all sides played in the electoral process.
When congratulating him on his victory, Deyemi, questioned what Thaddeus plans are for Eti-Osa as he has done thorough research about him and is yet to find anything about his plans for Eti-Osa.
He also invited Thaddeus to join him online for a live Instagram conversation to address concerns and respond to questions.
Read the letter below:
"OPEN LETTER TO HOR-ELECT THADDEUS ATTAH
Dear Sir,
I'll like to use this opportunity to congratulate you, Mr Thaddeus Attah @jt.atta of the Labour Party (LP), as the winner of the Eti-Osa Federal Constituency seat in the House of Representatives. Before I go ahead with what I will like to say, I will like to fully disclose that I voted for Mr. Bankole Wellington of the People's Democratic Party (PDP) and I still think he would have been the best candidate for the job. I do have immense faith in our discernment as a people to elect the right candidate, however, I am also quite worried about the role tribal sentiments, cyber bullying and herd mentality on all sides has played in our electoral process. That being said, I am a firm believe in democracy and I would want nothing more than for the people's wish to prevail once again I congratulate you Sir.

Mr Attah, same as with a lot of Lagosians, I only first heard of you when you are announced the winner a few days ago. Since that time I have made a significant effort to find out as much as possible about our newly elected Federal HOR candidate. To my surprise, my quest for answers left me even more puzzled as to who you really are as well as what your qualifications, past precedents and plans are for the people of Eti-Osa. With little or no online presence, and for someone that overthrew both an incumbent and a public figure. I am yet to find any indications of your campaign or manifesto. It would therefore be a great pleasure, if you Sir will do me the honour of accepting an invitation to either join me online for a live Instagram conversation this weekend to address concerns and respond to questions many others like myself may have.

Finally, without seeking to influence or enforce any candidate on anyone, I will like to use this medium to urgent al well-meaning, progressive Lagosians ahead of the March 11 elections to find their own individual voice such that when we head to the polls we ensure the person we are voting for reflects our collective want for great leadership and our desire for excellent governance. I look forward to a lively discourse".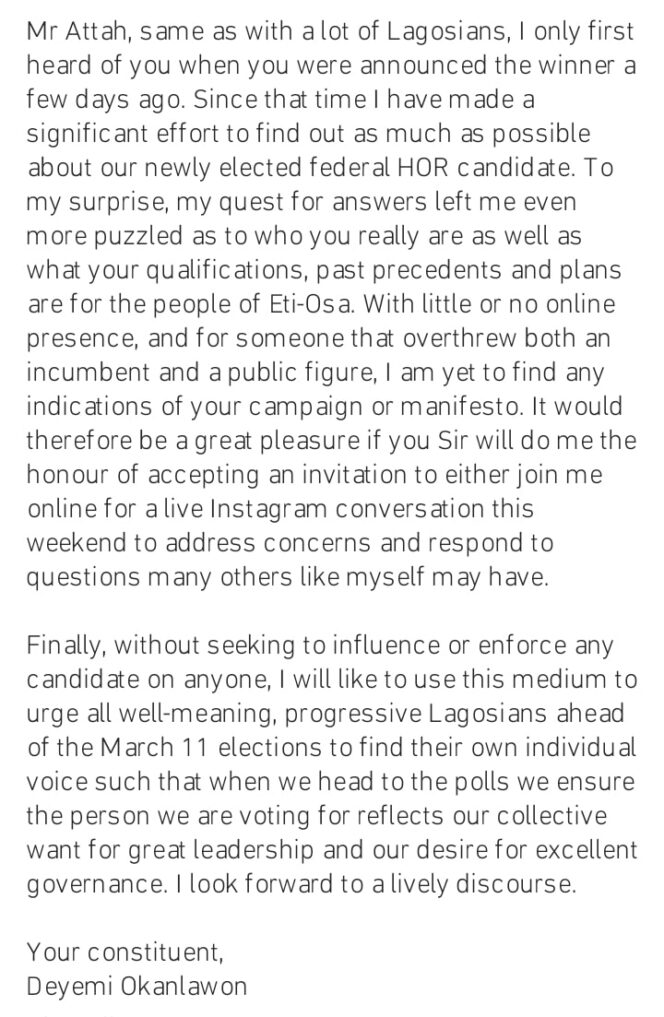 Read Also: What Motivated Banky W To Enter Politics?