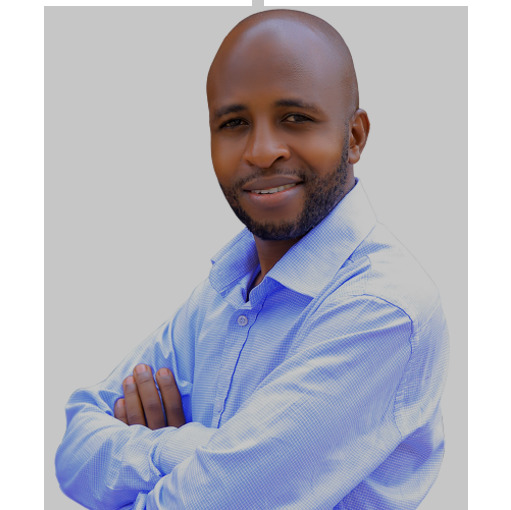 Muhumuza Brian alias Bryan Morel is perhaps the most sought-after brand executive, publicist and a philanthropist from Uganda.
In 2021, he launched Bryan Morel Publications – an independent team specializing in corporate positioning, strategy, brand build, editorial, and influencer marketing.
Mission Statement
To accelerate world peace through pairing visions, contribution, connection and professional wit.
Early life & Family
Bryan was born on 4th August 1993 to Abel Muhumuza (deceased) and Jovia Kyarimpa in western Uganda.
Growing up with an uncle Yowath Mugizi Bishanga, Bryan Morel overcame the illiteracy plague.
Such placements wrought courage-valor for future inevitable challenges.
Personality & Lifestyle
Bryan is passionate about writing, travel, and environmental conservation.
He upholds a flexible poise and impressive fortitude towards new clients while maintaining pioneer ones.
Education
1998-2006 Lyakisana Primary School (elementary Education)
2007-2010 St. Gonzaga SS Kijjukizo (secondary Education)
2011-2012 Sseke SS (Advanced certificate of Education)
2013-2016 Makerere University (Project planning & Management)
Career beginnings
2014, Organized alumni conferences and talent shows honing his craft as a neophyte while at university.
17th July 2015, Secured internship at Banda Community ICT hub in central Uganda. His dissertation spanned programs of positive living among the youth.
13th September 2015, Joined Diva Awards Afrika. He rendered media liaisons and copywriting – an evolve into repute normalcy.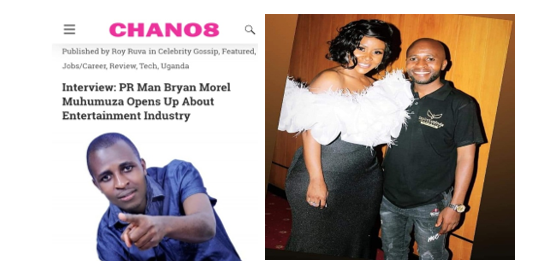 Career
Bryan Morel made his debut as a freelance assistant cum publicist to civic figures writ large Angella Katatumba, Sheilah Gashumba,
Desire Luzinda and Judith Heard.
23rd – 24th May 2016 Attendance at United Nations (UN) World Humanitarian Summit in Istanbul Turkey invited by Secretary-General Ban-Ki Moon.
1st July 2016 Organized diplomat-studded 'Mulago Yaffe' concert at Kampala Serena in partnership with Uganda Cancer Institute. This received rave reviews and publicity.
November 2016 African Union symposium in Nairobi Kenya (Presented by Angella Katatumba Development Foundation).
2nd June 2021 Coordinated the launch and publicity calendar of Desire Luzinda Foundation International at Kampala Serena.
20th March 2022 Incapacity Ugandan National Director, traveled to India Mumbai aboard AirArabia for the Miss Environment International pageant.
He has resultantly developed an apt intersection of media contacts, content creators and businesses along archetypal multi-tasks.
Goodwill and Philanthropy
A volunteer who overcame adversity and founded Kyarimpa Cares charity, Muhumuza embodies concern for infant livelihoods, corporate social responsibility and empowerment.
He serves dinner to his neighborhood every thanksgiving, a culture adapted during his formative years.
2016 Under 'Mulago Yaffe' campaign donated phototherapy machines and syringe pumps to Mulago National Referral Hospital.
21st September 2017 Visited Genocide Memorial Grounds to mark World Peace Day in commemoration of the 1994 war in Rwanda.
6th July 2020 Handed over Holic sanitary pads to Uganda Christian University students on behalf of musicians Desire Luzinda and Sheebah Karungi in response to Covid-19 menstrual health effects.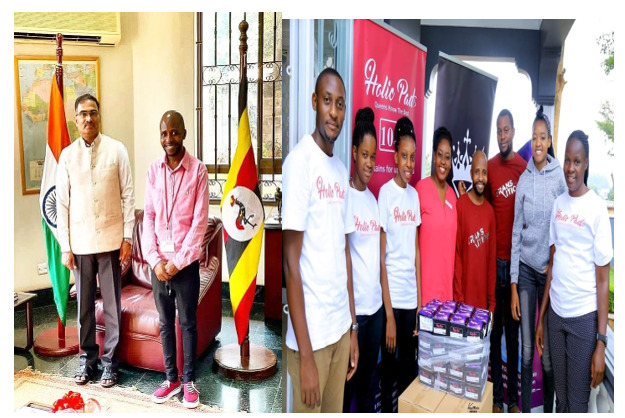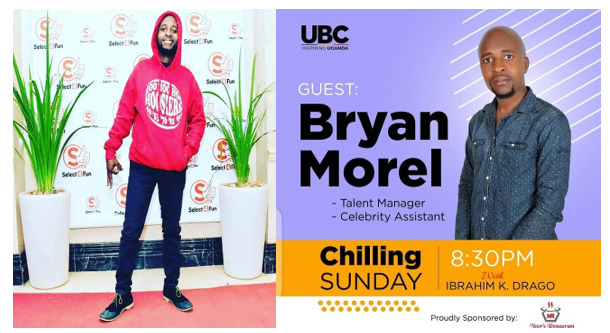 Honors & Recognition
Bryan Morel has been awarded for his prolific and transformative hustle;
5th December 2016 Honored by East African Data Strategy and Capacity Building (EADSCB) symposium at Kampala Sheraton, among other philanthropists.
17th January 2018 Appointed Brand Ambassador for FeetBit, a sneaker line that orders and ships retro shoe brands targeting up-town audiences in East Africa.
8th April 2019 Awarded a certification of Merit in Digital Security skills organized by the 'Mentors Network', DW Akademie and German Cooperation – Deutsche Zusammenarbeit.
African Fashion Collective London Day 1
26th March 2022 Named and contracted by Forty Under 40 awards in Ghana centering integrity and charisma in Public Relations.
Bryan has earned himself a distinct marketing status amongst those looking to maximize their potential and garner a milestone.
He acutely embraces trends and their impact on market praxis and multicultural consumer behavior.
Media & influence
Bryan Morel has been featured on modern and mainstream media: Uganda Broadcasting Corporation (UBC), Chano8 Magazine, Informer (Kenya), MyjoyOnline (Ghana), The Globe (Austria), Juba Monitor (South Sudan), Radio Télévision Nationale Congolaise (Congo), and Clouds FM (Tanzania).
Social Network
Bryan has over 20,000 combined contacts and followers across circles.
LinkedIn: @iambryanmorel
Twitter: @bryanmorel_PR
Facebook: @BryanMorelPublications
Instagram: @BryanMorel.PR
Read Also: Top 3 Hottest Nigerian Single Male Celebrities