Alaoma Isaac, better known by his stage name Zicsaloma, celebrated his birthday by purchasing a new mansion.
The comedian and skit maker shared the good news on Instagram on Monday by posting a photo of his new house.
He wrote, "Happy birthday to me." The Second Slide is a gift to myself. Please feel free to send in a gift and ask for aza.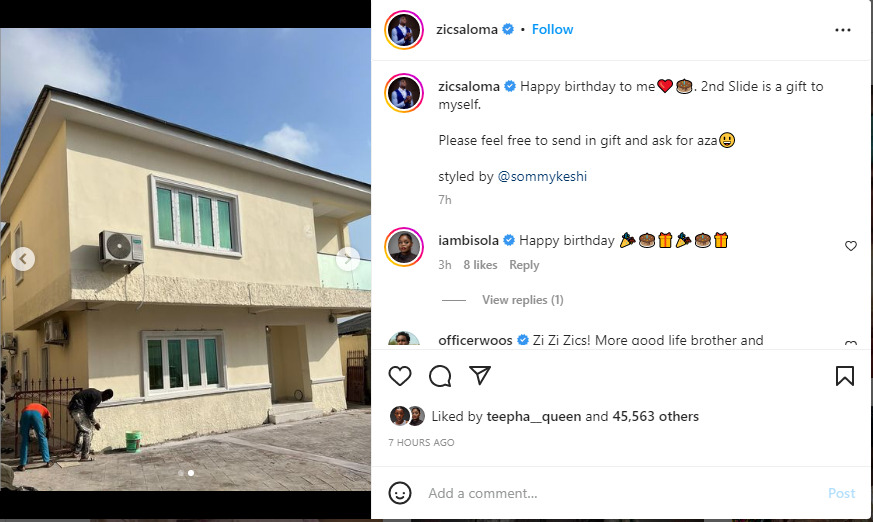 Other famous people congratulated him and wished him a happy birthday in the post's comment section, including Destiny Etiko, Mike Ezuruonye, Jide Awobona, Real Warri Pikin, and Omoborty.
Zicsaloma announced the acquisition of his first home in June 2021 and gave thanks to God for promoting him from tenant to landlord in the announcement.
Zic participated in auditions for Nigerian Idol and The Voice of Nigeria, two reality talent competitions that are known for finding talented singers, before becoming well-known.
The comedian holds a degree in literary studies and English from Abia State University in Uturu.
Zicsaloma Finally Breaks Silence Over S*x For Roles Allegations
Fans took to Instagram to express different thoughts after online comedian, Isaac Aloma a.k.a Zicsaloma, failed to clear the air about s*x for roles allegations.
READ ALSO: Biography Of Senator Iyiola Omisore Who Became APC National Secretary One Year After Joining Party
During an interview, the skit maker explains that he won't say anything about the accusation
One of the fans, Jacon Barry wrote on Facebook;
This will mean the accusations are true, you shouldn't say you won't clear the air about the despicable accusation."
In a further chat, the skit maker revealed that the accusation against him is not true.
READ ALSO: Biography Of Honourable Shina Peller: Net Worth, Political Party, State, Wife, Father & Career
In his words as captured by glamsquad,
"I really don't want to talk about these things. I have been told that if people don't talk about one, it means one is really not doing well. I don't blame any blog for writing whatever they want; I blame people who give them audience, because they are just looking for ways to drive traffic to their blogs. I am not clearing any air. People can believe whatever they want to believe"The best thing is for you to watch my skits. Anybody that looks like an up-and-coming comedian should be asked what they did for me to feature them. Everyone that becomes successful, most pass through a channel. I became successful because I put in hard work. I shot content for years without being recognised until it got to a point when I was recognised by people and my content started going viral.

"I work with anybody who I feel can deliver. I shoot most of my contents with celebrities. That does not negate the fact that I can work with someone who has just 20 followers. I don't compromise my content for anything. Some people offer me money to feature in my skits but I tell them 'no' because I don't like their acting."