From big to small, companies are chalking out their own WFH (Working from Home) and hybrid work models.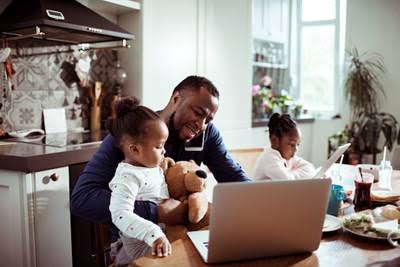 From big to small, companies are chalking out their own WFH (Working from Home) and hybrid work models. Surveys have indicated that the bulk of employees who worked from home during the pandemic have found it more comfortable, productive and time-saving.
A home office has the potential to cut out an expensive time-consuming commute, provide a more relaxed working environment, and allow more control over the working conditions that suit you.
Given the success of remote work in the past one-and-a-half years, it is likely that a substantial percentage of the workforce will continue working from home. There is a significant rise in the availability of work-from-home jobs.
Your workstation is no longer restricted to a single desk; audio is free to roam the air, meaning conference calls aren't confined to a solitary room; and the use of technology now actually augments collaboration with your colleagues rather than hampers it.
What Are Smart Home Gadgets?
Appliances that you can operate from anywhere are known as smart devices. They are electronic gadgets that are able to connect, share and interact with their users and other smart devices.
Smart home gadgets are electronic devices leveraging technology to solve common issues at home and providing greater ease and convenience.
Common components of smart devices are:
A hardware layer that includes a radio, which transmits signals.
An application layer through which end users deliver commands.
A network layer through which devices communicate with one another.
These devices connect to the internet, or networks, or other devices via wireless protocols like Bluetooth, NFC, Zigbee, Wi-Fi, 5G, LiFi, etc., to operate autonomously and interactively to an extent.
READ ALSO: WhatsApp Spotted With a New Custom Privacy Setting for 'About' Status Updates for Android Users
Some of the smart home gadgets are smart locks, smart lights, smart motion detectors, smart video doorbells, smart refrigerators, smart thermostats, smart vacuum cleaners, smart switches, smart speakers, smart plug and many more.
These days, there's a smart version of pretty much every home device you can think of. In general, these products connect to the internet, so you can control them from your phone via a companion app. Most also work with various forms of voice control.
Working under suitable conditions is essential for productivity and your mental health and employee morale.
Always keep your workstation tidy, whether it be your office premises or your work from home workspace. Also, always organize things at your convenience as to where they should be.
Our work life is something that eats up a major chunk of our life. It is therefore important to enjoy it rather than just endure it.