The Windows 11 operating system provides numerous options for users to access the system's Advanced Startup Options. It is accessible via Settings, Quick Link, Command Prompt, USB media, or Automatic Repair.
The "Advanced Startup Options" menu item is a recovery environment (WinRE or Windows RE) that allows you to troubleshoot, diagnose, and repair most problems when the operating system is not functioning. This function comes in helpful when you want to debug a problem or modify a certain option that isn't possible to perform when Windows 11 is running, and this is when it comes to the rescue.
In this step-by-step tutorial, we'll teach you how to access the Windows 11 Advanced Startup options on your machine via Settings.
How to access Advanced Startup Options in Windows 11
Step 1: Open the Settings application on your Windows 11 computer. For this, open the Start menu and search for the app or press the Windows + I keys on the keyboard.
Step 2: When the Settings app opens, click on the "System" option.
Step 3: On the System Settings page, click on the "Recovery" option.
Step 4: Under the "Recovery options" section, click the "Restart now" button in the "Advanced Startup" setting.
Step 5: After that, click the "Restart now" button again.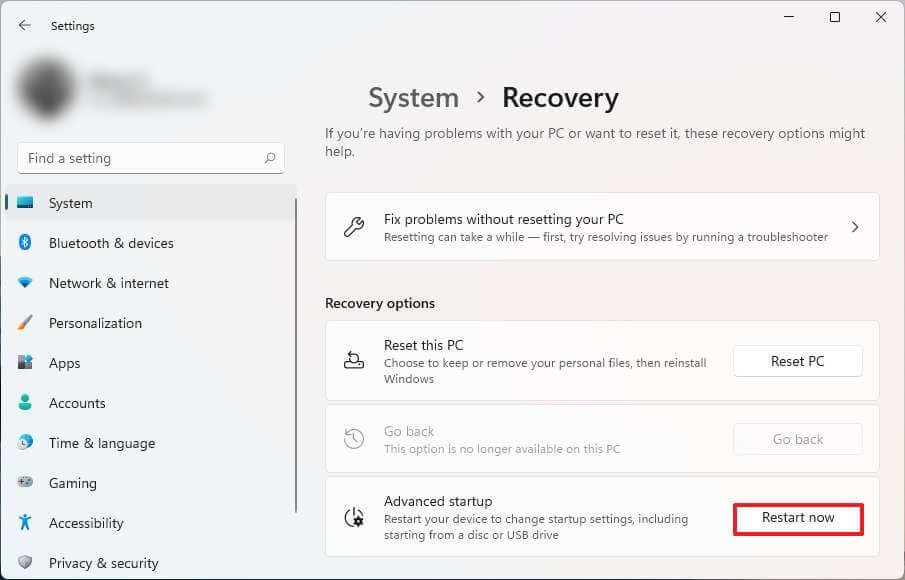 After you click the Restart Now button, your Windows 11 machine will log you out and provide you access to the Advanced Startup options, from which you may select the action you want to perform.