Kim Kardashian's Met Gala 2021 outfit was the talk of the town during the red carpet show.
The celebrity influencer has finally admitted that she couldn't see clearly through her Met Gala outfit that covered her entire face.
She said that at one point during the evening, her sister, Kendall Jenner, called out to her but she couldn't see who she was.
"Kendall was calling my name and I couldn't see who it was. But I saw the outline of her sparkly dress," Kim Kardashian admitted on her Instagram Stories.
See the post below: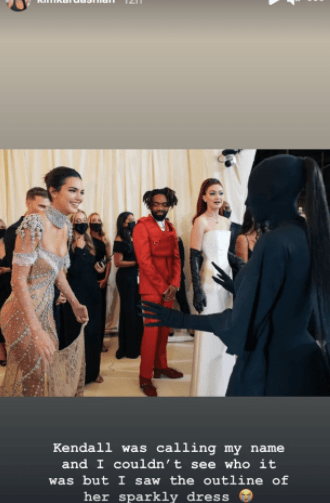 Kim had earlier explained that, contrary to popular belief, her all-black dress was actually appropriate for the evening's subject, "In America: A Lexicon of Fashion." The stars were instructed to wear outfits that represented American independence.
Some made political comments with their outfits and handbags, while others were inspired by former eras and figures. The Keeping Up With the Kardashians alum, on the other hand, took a literal approach.
"What could be more American than a T-shirt from head to toe?" the KKW Beauty creator joked on Instagram with a photo of her outfit from the evening.
See photos of the attire below: