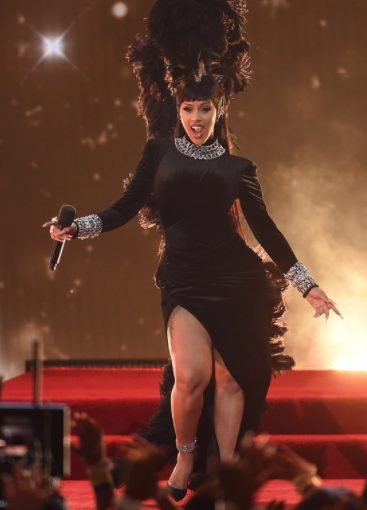 Popular rapper, Cardi B rocked multiple dresses as she hosted the 2021 American Music awards.
The "Money" artist, who recently welcomed her second child, made her hosting debut, live from the Microsoft Theater in Los Angeles, where she wowed the audience with dramatic ensembles and her wit.
Cardi B donned a black figure-hugging dress with a thigh-high split for her first outing.
She wore a beautiful black gown with a stunning feathered headdress and silver diamond jewelry as well.
Read Also: Offset Gifts Wife, Cardi B With $1.5 Million Mansion
Cardi admitted to being scared, but said she would make sure everyone had a good time.
As she greeted everyone to the 2021 AMAs, she commented, "Damn, this crowd is loud." "I'm not going to lie. I'm a touch jittery. I'm dripping wet."
Cardi B also made a statement when she introduced Jennifer Lopez in a velvet deep purple gown with feathery sleeves.
Cardi described Jennifer as a "big time hustler" who "does movies, dances, sells perfumes…clothes, everything."
She made a theatrical entrance by wearing a gold mask and a small veil over her face before the show began. In a strapless gown with gloves, she looked stunning.
See photos below: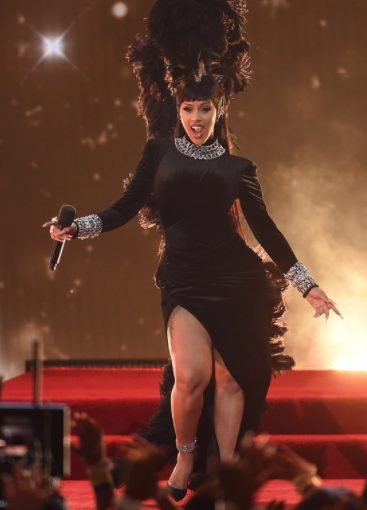 Read Also: Glam Look Of The Day: Cardi B Dazzles In A Lovely Adire Gown