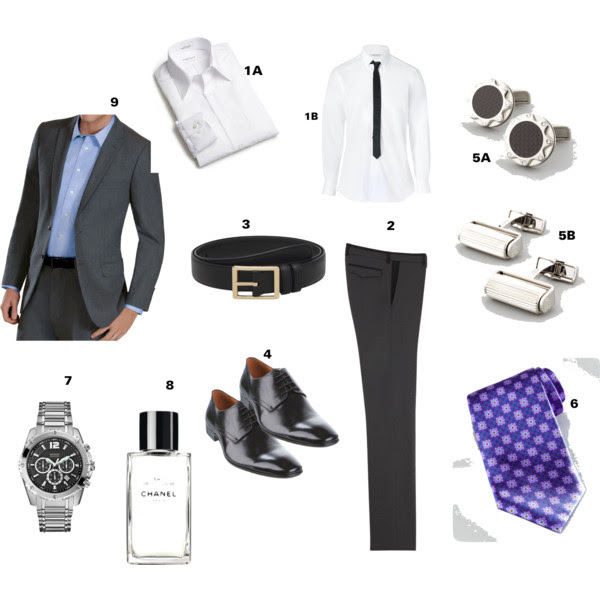 "It's really sad to hear about the loss of a man we all admire so well in the entertainment industry, Robin Williams was a fine actor  . I remember seeing one of his movies  (Mrs Doubtfire) and I just fell in love with his acting. He will be missed, In memory of talented comedian I am dedicating this post to all the men who are in the industry and trying to aspire to greater heights in their career . ''    RIP Robin Williams .
Nothing says CLASS like a man in a well tailored pant suit, a pair of cuff links, a well knotted tie, a pair of black  leather shoes, a CRISPY CLEAN white long sleeves buttoned up shirt, and a time piece, this is where appearance speaks louder than words. This collection is all about that man trying to nail that Job in every possible way he can without sounding or looking desperate but leaving a very good impression in the minds of his interviewers. We are all familiar with the phrase "First impression matters" and the first impression people get is from looking at your appearance before even listening to a word you say. I've seen a lot of people being offered a job in a company just because of the way they dress to an interview, below is a collection of what you can put together when attending an interview or a board room meeting or presentation. I'm going to break it all down so you can understand the difference in each item in the collection and why the choices of what you pick can completely make or mar your looks.
1A .   Not sure what colour of shirt to wear to an interview? You can never go wrong with a crispy clean white shirt and i mean so white you cannot find a white printing paper when placed on it,white is a very easy colour to co-ordinate, i often hear people say i don't like to wear whites ,it's hard to keep clean, it gets stained easily, everyone can see the stain on a it, it's too bright for my colour, it's this, it's that and blah ,blah ,blah…
1B .  Let's be honest with ourselves here .Those words I find to be coming from lazy and dirty people most  of the time,because personally if i know i will be going somewhere important and i am putting on a pair of white blouse or shirt ,i want to ensure it remains white all through the day so i either get a jacket or i avoid certain foods and places and always carry wipes with me to wipe off stains immediately,and after that it goes in the wash.
Whites are not meant to be worn until the fabric is worn out. Ditch your whites as soon as the colour begins to fade, no matter how many times you've worn them. The best way to know this is by performing the paper test above.
2 . One thing you don't want to do in an interview is to practice your colour blocking skills. i know the Men's trousers are somewhat not too obvious when they are complete with a tie and a suit because everyone seems to be focused looking above ,that said , never try matching a black suit with a grey pair of trousers or a pair of nude pants with grey suits ,in fact, if you are going to be wearing your suit to an interview forget the jacket if it's not the same colour as your trousers.
DONTS
Do Not Wear an ankle grazing pair of trousers what people would call a "jump up" to an interview,  everyone will think you've had it since high school.
Do Not Wear khakis, coydrouys, jeans or any form of denim pants to an interview
Do Not Wear a dirty or rumpled pair of trousers to an interview ,even if you've never had power supply for months in your neighbourhood ,it's not an excuse to fail an interview, and don't think because you're going to be sitting down throughout the interview, Your interviewers will not notice it.
Do Not Wear an oversized pair of trousers and try to support it with a belt, it's not the smart thing to do , you'll end up looking clumsy. It shouldn't be tight nor lose .Find one that fits perfectly with or without the support of  a belt.
3. The belt is one accessory that i think you can almost get away with in an interview. Try getting a plain leather belt preferably black or dark Tan ,Nothing shiny or flashy when it comes to leather, don't go looking for a designer engraved buckle just to prove a point. You've only made a fool of yourself if the leather itself is not appealing to begin with. Make it Plain and simple
4. Like i said , If it has got to be leather, then make it Plain and simple, no snake skin ,no shiny mirror looking patent leather, no  trainers( like your addidas running shoes),No pointy looking shoes like that of a cowboy or a clown.A simple laced up polished pair of black or dark Tan shoes will do, Faux or real leather as long as its clean, polished and shined before you go into the room.
5. A pair of Cuff links can either complete your look or correct your look. Some guys find it to be a waste of time and unnecessary. Trust me , once your interviewers glance at your wrist to see a pair of cuff links ,it automatically gives them the impression that you have a sense of style.
It shouldn't be anything loud, it could be sterling silver, Gold ,gold plated , medium size with or without any engraving it's your choice really.
6 . TIES
Ties are a great way to sneak in a bit of colour or print into an outfit. But Be careful not to overdo it.
Prints- Stripes are good, dotted prints are nice ,Floral prints are also good when they are smaller and well spaced not when they look like a map to Harry Potter's Dungeon….(too busy).
Colours – any colour will do but here's the trick. Don't pick a tie with a loud colour that also has prints.
if you go for the prints make it a masculine colour(grey, black ,navy blue, dark blue e.t.c)
if you go for the colours then make it plain ( like plain yellow, plain gold, plain pink, plain red, or even plain black)
7 .  The picture says it all, pick whatever you like when it comes to your time piece, designer labels or not, digital, analogue, metal straps ,leather straps, Whatever suits you,  just make sure it's your perfect wrist size and most importantly -its working.
8 . Hmm…Always remain clean and fresh no matter the weather or how far you may  have walked to the venue of the interview.Get a nice cologne or perfume, and  a deodorant for men and use it daily. Try not to  spray a mix of perfumes especially when you can't make a choice on which one to spray for the day, it will only end up overwhelming everyone in the room. That's a bad impression right there.
9 . SUITS ! SUITS! SUITS!
Where do i begin, the only advice i have for guys here is ,If you have never spent a lot of money on anything about your ward robe, then invest in a good tailored formal and business suit , Don't go borrowing  from Your brother,dad,or friend no matter what size they are. Don't ask a tailor to make you a suit in your absence, try getting it tailored to fit you . I really don't know how to explain this without physically displaying the difference between a well tailored suit and an ordinary suit. I see a lot of suits really looking ridiculous on the wearer, if it's not the buttons, it's the lapel, or the breast pocket, or the length of the suit ,or it's the oversized shoulder pad or the uneven stitches I can go on and on,but i'm sure you get the picture.A good suit will make up for whatever flaws you have on. So invest in one.
Finally, try to comport yourself in an appropriate manner. Don't Walk or Sit like the outfit is wearing you but like a gentleman, this is very important, Fashion is not all about clothes and accessories but about style and charisma. Be subtle in your body expressions,and be confident.
So gentlemen, Go ahead and seize the day with these style tips. You deserve to look good no matter the size of your wallet or budget.
By Uzo O.
www.stylenbeautylounge.com
Related articles across the web