The Ooni of Ife, Adeyeye Enitan Ogunwusi played host to the United States (US) mission in Nigeria yesterday, December 3rd, 2021.
The delegates were led by its Ambassador, Ms. Mary Beth Leonard.
Read Also: Olori Naomi Ogunwusi Celebrates Her Hubby, Ooni of Ife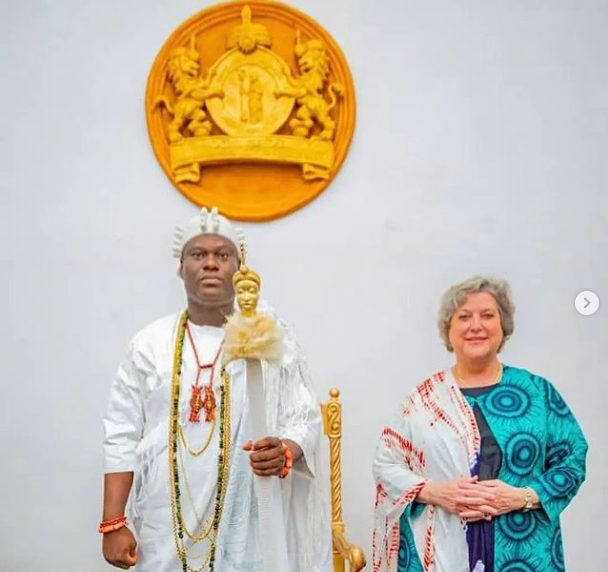 "We touched on strategic, heroic and watershed national contributions of women and youth entrepreneurs into various fabrics of our nation. They are our trail blazers, lights of our nation, drivers of our national prosperity and embodiment of our precious assets that abounds in our various communities." The Ooni said after the visit.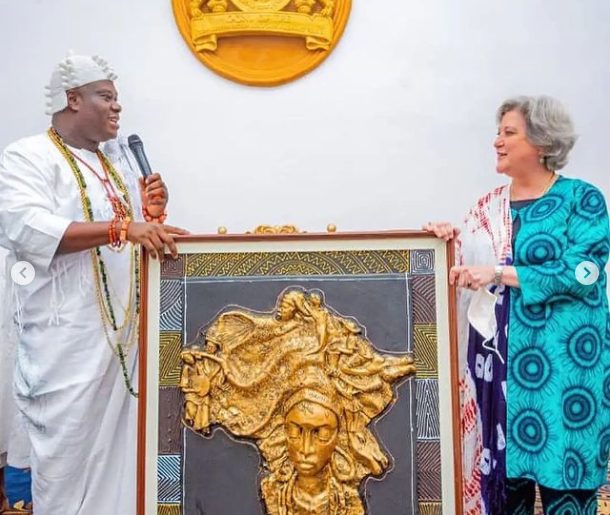 He continued, "I truly must say a woman is the best man for the job. I, Ooni Adeyeye, I'm a true living witness to this reality. I celebrate your doggedness, fearless spirit, uncompromised bold mission to building socioeconomic spaces and the depth of your commitment to family dignity amongst all. My strategic goals in the next 5 years through my various initiatives is to break new economic grounds with 100 female entrepreneurs. I must commend the US Ambassador firms believe in this project and most especially applauds the mission continued stride through the Academy for Women Entrepreneurs (AWE) project. This journey is a sacred and epic mission and it has started already and I'm getting closer to this goal by the day."
He added, "It is indeed my joy and pride to see our women taking up boardrooms, leadership and governance positions thought only meant for men and upholding the values of those offices thus leading to new frontiers and greater glory for our nation and the continent of Africa."
Read Also: Nigerian Ceelebrities Who Have Visited Ooni of Ife