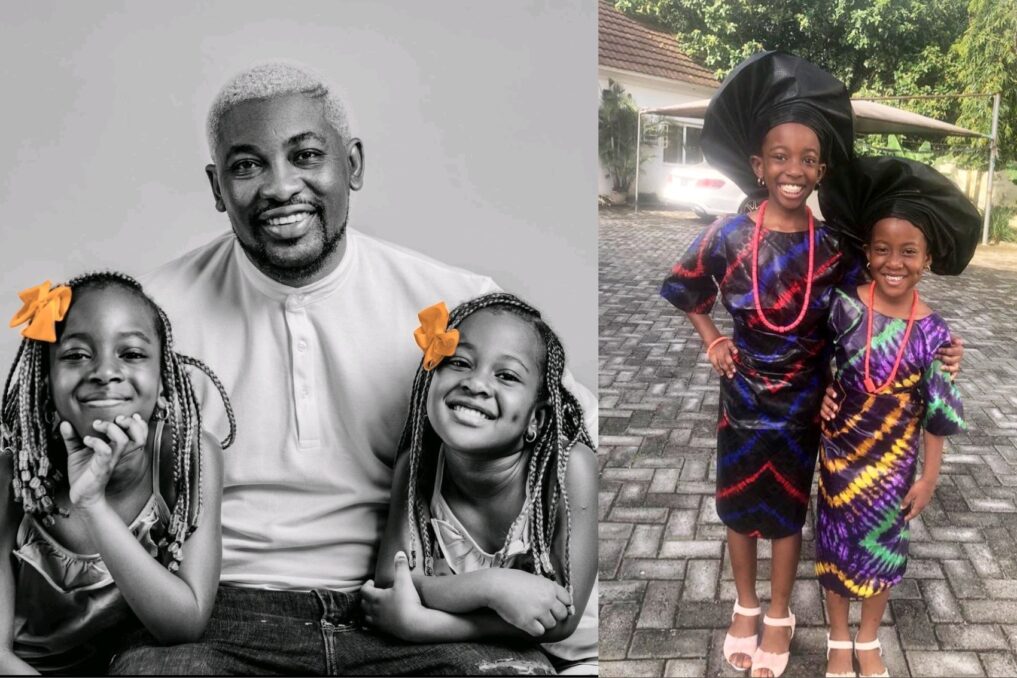 Media Personality, Oladotun Ojuolape Kayode, better known as Do2dtun penned an emotional note to his daughters, Fife and Fioreyimika in celebration of valentine's day.
Taking to his Instagram page,  Do2dtun noted that words can't qualify the genuine love he feels for his children as a father. His children whom he tagged as darling pearls are the true essence of his life, the lights that shine in his darkness.
Making a lifetime promise to them, the 'Energy gAD' noted that there are no heights he won't reach to hold their hands and no depth he won't explore to show them how much he loves them.
He wrote:
"LETTER TO MY GIRLS.

"Finding the best words in the world To describe my eternal love for my baby girls But none best suite this deep-seated affection. I've searched through Homer's best poems – for a phrase, thought or nuance Still looking through Shakespeare's timeless collection of plays, poems pun and rhymes Neither can there be found strings of word That can fill in the most genuine love of a fatherly love for these two adorable jewels. Feeling teary right now, lol.

"Priceless, they costlier than diamonds, gold and platinum all combined. Thank you my darling pearls, you are the true light that shines in my darkness —- you guys are the essence of life, family and warmth It is because of you both that I am called a proud father. And I thank God for making this so possible.

"There is no distance that can separate you Because in every single breathe I take, I hear your sweet voices in my ears. Innocence dignified, beauty extraordinaire, intelligent and talented —- a token of being a Kayode.

"There is no heights that I won't reach to hold your hands. There are no depths I wouldn't explore just to show how much I love you guys. To share in your laughters and read you a bed time story. In your innocent smiles, a sun of solace rises after the darkest nights. Thinking of you both, I find strength in my lowest state. You are both the constant rhythm of my heart, my blood runs in your veins.

"My friends, my ace and awesome gifts from on high.

"You are the perfect ones in my heart, my true valentine gifts from on high.

Thank you both for the joys that you bring and ever brought me. Ko easy fun Daddy sugbon Daddy has a Daddy (God) who takes care of him for you. Happy Valentine to my nuggets. Thank you @babspen001 for this piece. I had to share it".
Read Also: Actress, Annie Idibia celebrates 11 years proposal anniversary with husband, 2Baba