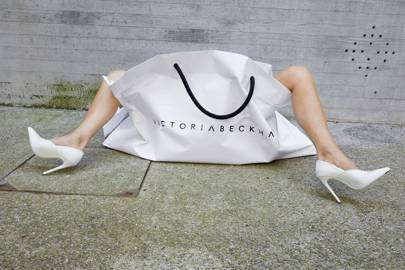 Victoria Beckham has already told Edward Enninful what she really, really wants for the 10th birthday of her brand in an exclusive Vogue video. But, the kind-spirited designer has created something special for her customers too.
In the run-up to her spring/summer 2019 show, which she is bringing home to London for the first time, Beckham has released details of an anniversary T-shirt. And being Beckham it's not just any T-shirt. The former popstar has famously mocked her outwardly serious persona via slogan tees in the past, and this one is just as brilliant as its predecessors. "Fashion Stole My Smile", anyone? "It's A Dark But Happy Place"?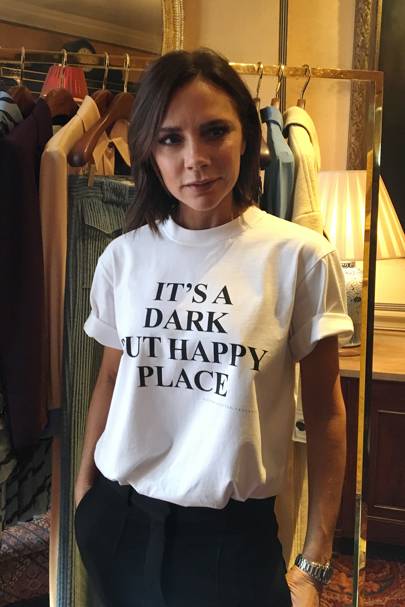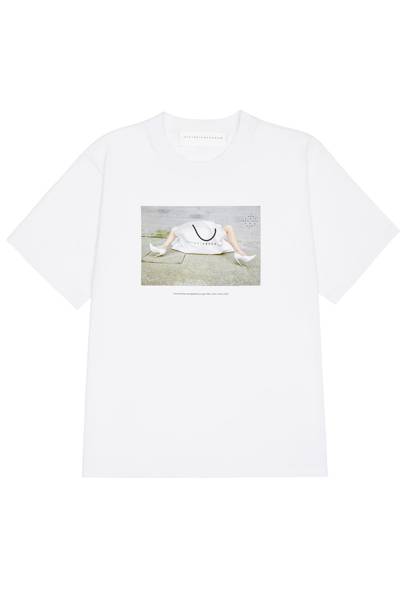 The 10th anniversary tee harks back to a moment a decade ago when Beckham put reputation in the hands of Juergen Teller. The mastermind behind many of Marc Jacobs's provocative campaigns photographed Beckham with her legs sprawling out of Marc Jacobs-branded bags as she wittingly made herself the product being promoted. When the campaign was released in the spring of 2008, Beckham was working on her first ready-to-wear collection behind the scenes. Thus, when thinking about how to celebrate the last 10 years of her business, the pictures were a natural starting point.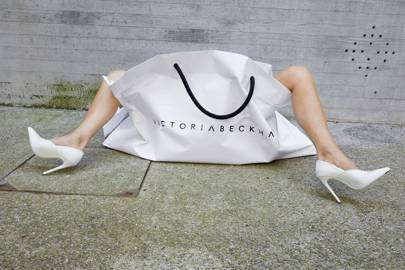 Teller shot Beckham over this summer in London, and the resulting three portraits will become the designer's first brand campaign with herself as the focus. The re-imagining of the "legs" shot will be printed onto the limited-run of £115 T-shirts, which will be sold on Victoriabeckham.com and in the Dover Street store. Beckham, herself, will be behind the till from 3pm on September 16 after she has taken her post-show bow and opened the doors to the public. Whether there will be Beckham-sized carrier bags to house the tees remains to be seen, but one thing is for sure, Beckham – a mastermind of her own image – is having the last laugh yet again.