Controvercial singer, Azeez Fashola better known as Naira Marley has released a press statement to respond to the allegations levied against him over the death of his ex-signee, Ilerioluwa Oladimeji Aloba better known as Mohbad.
Recall that Mohbad passed away on Tuesday 12th September 2023. As several controversies surrounding his death continues to rise, Naira Marley and his aid, Samson Erinfolami Balogun better known as Sam Larry have been fingered as alleged perpetrators in Mohbad's death.
Read Also: Tonto Dike drags Naira Marley, NDLEA in the mud over Mohbad's death
In a new statement released on his official Instagram account on Tuesday 26th September, two weeks after Mohbad's passing, Naira Marley stated that he is innocent.
The Marlian boss, who disclosed that he has been abroad since August 31, 2023, declared his intention to come back to the country and assist the police with their investigation.
Naira Marley clarified that any disagreements he had with the late singer never escalated to the point where they wished harm upon each other. He said he has never sent anyone to harass and bully MohBad.
Amidst cancellations of his record label, music and accusations of being a drug lord, Naira Marley stated that those claims were false. He further emphasized that he is not a member of any cult or fraternity.
Read Also: Mohbad: "I would have also died in the hands of my former label" – Harrysong shares struggle
See his lenghty statement below
"In the last few days, there has been a lot of onslaught on my person and reputation globally over the death of my former signee. All manner of stories has been woven against me in respect of his untimely death. I have not only been in shock over the death of the deceased whom I considered to be my brother and member of our music family, but over the various lies spread and threats against me.
"Before I progress further, let me say that as it is traumatic for a lot of people to bear the reality of lleri's death, so it is to me. May his gentle soul continue to rest in peace and may God grant his family the fortitude to bear the irreparable loss.
"Permit me to categorically state that I have no hand in the death of llerioluwa, either directly or indirectly. It is not unusual in the industry, just like in several other industries to have family friction, even amongst blood relatives.
"Truly, we had our own share of misunderstandings whilst working together, but the disagreement between us was never to the extent being painted by some hirelings. It never degenerated to the extent of wishing each other death. Even at that, we were resolving our business disputes legally before he had passed.
"I have chosen not to say anything since due to being distraught over his death and in order not to jeopardize the investigation being carried out by the government agencies.
"In addition, I have been out of the country since the 31st of August, 2023 and I'm yet to return. In light of the police invitation, I am making arrangements to return to the country to assist the investigation and give my version of the events. I am fully cooperating with the Police team and I certainly have no reason to be a fugitive when I have no hand in his death.
"I am certain that the culprit behind his death and has a vendetta against me and are fueling public opinions to have me lynched for reasons known to them. In due time the circumstances surrounding Mohbad's death will be unveiled and the world will know the truth. This kind of scenario of attempting to set someone up is not novel in the industry as other great musicians have experienced the same and came out better and stronger. Mine will not be an exception as I am innocent of the accusations.'
"Mohbad left the label in September 2022, the label accepted his departure. Marlian Music did not stop or interfere with his career or releases since and he has been with oneRPM. Legal efforts were made to reconcile his concerns regarding the work we had done together.
"The rumors regarding the label being a drug cartel are untrue. I am not a drug lord, neither do I Marley belong to any cult or fraternity. I'm dedicated to proving my innocence and I'm cooperating with the authorities to clear my name with sufficient evidence.
"Marlian Music is an independent label run by a small intimate team. We run a legitimate label that focuses on championing exceptional talent, breaking new acts and nurturing them.
"I will like to clearly state that I have never fought or attacked Mohbad. For the avoidance of doubt I have never instructed anyone, friend, known associates or fans to attack, bully or harass <Mohbad. With regards to the talent on the label, none of our artists ever fought or mistreated Mohbad.
"I share my deepest condolences to the family. Let's be mindful as we seek justice to focus on supporting the police and authorities with relevant information and evidence surrounding his death so that those responsible will be apprehended. I am positive that at the end of the day. the truth will prevail and I shall be exonerated.
"My lawyers are already in touch with the police and government agencies and will support in every way necessary.
"Without a doubt I will honor his memory and I promise to do right by him and his family.
"Thank you."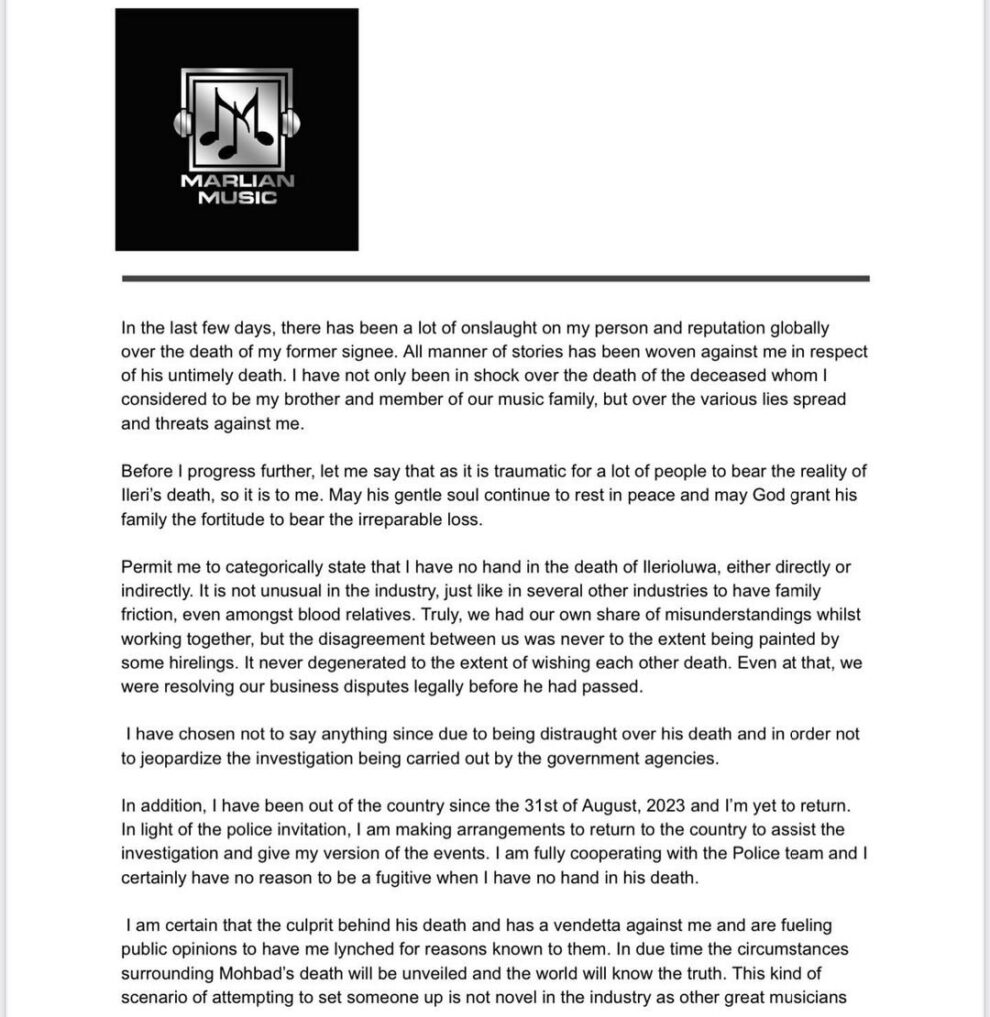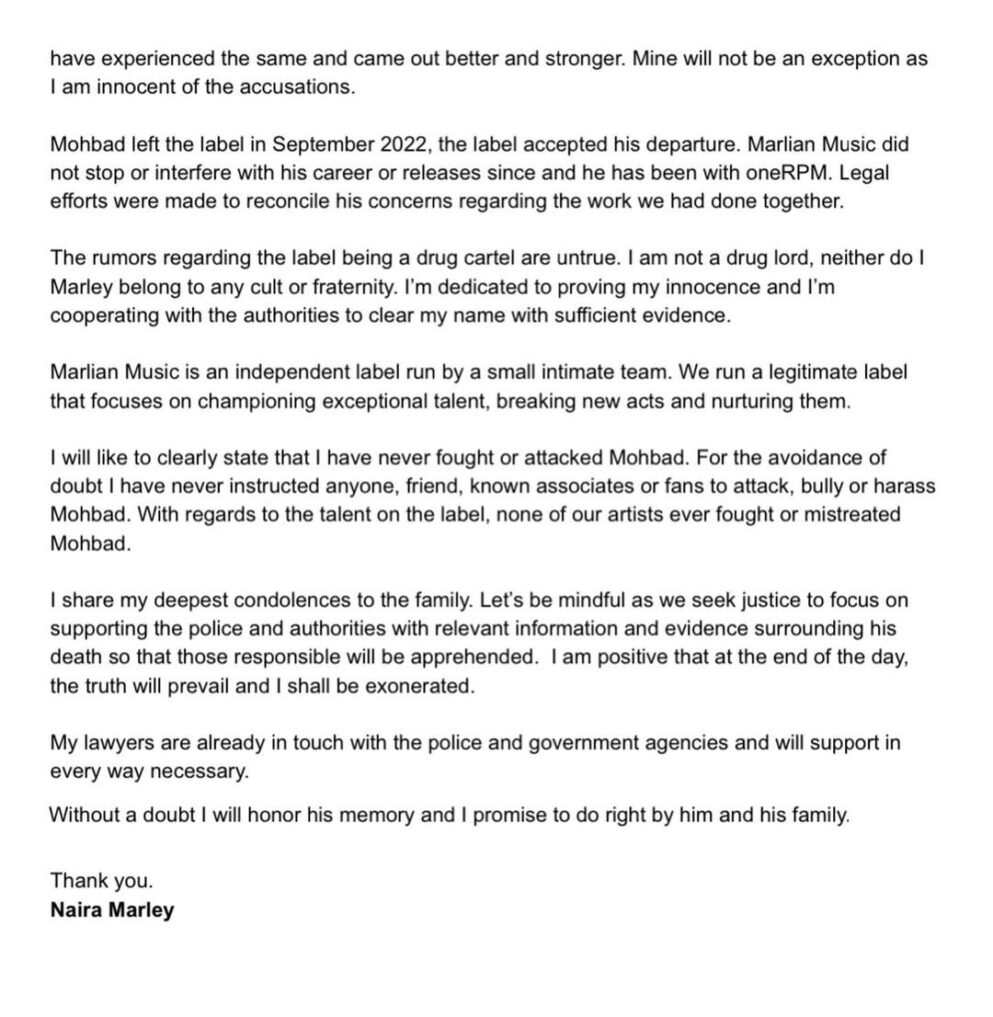 Read Also: Mohbad makes history as first African artist without an album to debut 3 songs in Billboard's Top 10