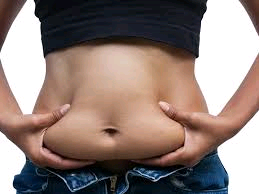 Belly fat can be a problem most especially if you are trying to wear a body hugging cloth.
However, there are natural ways to help you out in your journey;
Read Also: Glam Look Of The Day: Nengi Is A Beauty In  New Look
1. Focus on low calorie foods
You can't be hoping for a flat tummy or six packs while your body is congested with calories, it will slow down the process and in some cases you will see no result at all.
2. Eliminate sugary drinks
Cut down on your intake of sugar or anything sugary that way you know you are making progress.
3. Eat fewer refined carbs
As much as carbohydrate is good for the body, too much of it could be very bad for your health.
Read Also: For Men: 3 Things That Should Not Be In Your Closet This Year
4. Eat more fruits and vegetables
Scientists have proven that people who eat  fruit and vegetables has 20% lower risk of coronary heart disease.