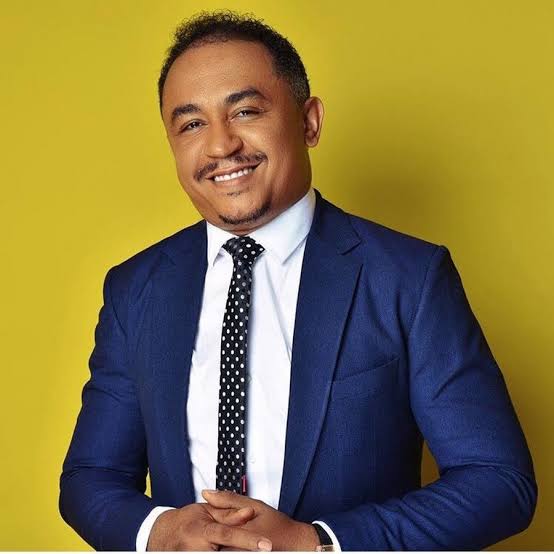 As the issue of domestic violence continues to set the internet agog, media personality Ifedayo Olarinde better known as Daddy Freeze has dropped his two cents.
The 46-year-old who gets facts and scrutinizes issues from different angles took to his Instagram page to drop the advice. He said that once the issue of domestic violence starts, partners are to seek professional help but not from 'pastors'.
He also notes that prayer and preaching couldn't save gospel singer, Osinachi Nwachukwu who died in April after years of alleged domestic violence from her husband, Peter Nwachukwu.
He wrote,
"When you are going through DOMESTIC VIOLENCE, seek professional help; NOT from PASTORS! Unless the pastor is a trained therapist or counselor. Remember, prayer and preaching could not save Osinachi".
Daddy Freeze advice comes following the Instagram live session he has with Oyindamola Martins, the younger brother of late Bimbo Ogbonna, the wife of celebrity auto dealer, Ikechukwu Darry Ogbonna who passed away on Saturday, 15th October 2022 due to domestic violence.
During the Instagram live session, Martins gave an account of what transpired between his late sister and her husband before she set their home ablaze which eventually led to her death.
Read some of what he said below,
"The whole problem started when it was time to pay the kids school fees he was saying there was no money but he was going to clubs every night and allegedly he was sleeping at some chick's place.
"I don't want to mention anybody's name because I wasn't there. We family were like she should come to Abuja that they sort it out even if it's to change the children's school but she was like the guy has cheated for like 30-something years that the guy should settle her that she can't leave with nothing, she was really frustrated. She said "I made him what he is today, I begged people not to lock him up, I stood there even when his mother was not there for him"
"This same guy has no connection with his family member, even his brother doesn't talk to him. And this is supposed to be a good person. Fast forward to the whole tragic incident.
"The struggle started with the papers of the house they live in since that is the only property they had left. She wanted to play the fast one by quickly opening the safe with a welder so as to get the paper and move.
"I dunno who gave him the information but he drove from wherever he was to their estate. This is somebody that kicked his wife and the 5 children out a week before, I have the video. He said and I quote: "Your mother is training you people to be like her and you cannot be my kids".
"I have a video of his son telling him to stop beating their mother and he beat him up mercilessly. This was days before this main event happened.
"He drove home and saw that she had opened the safe with the welder and she locked the door. He was trying to get his papers back and he was being violent and he was banging the door and she locked the door.
"Somehow somehow he grabbed her and dragged the paper away from her and she had no papers and now she wasn't going to leave without anything. So she now said Tor, since this is the only house we have left let's kukuma burn it down so the two of us will leave with nothing
"He said they invited him to Alausa police station but he refused to come because he knows a commissioner and he feels he's covered, even the Ajah one he refused to come
What led to what? How did she get burnt?
"When he got angry and he was trying to look for the vulcanizer
Before she could lock the whole doors he got the papers back from her and she was mad and she was like tor, since na our only property be this make two of us kukuma leave with nothing then she started to light the floor. And it was kerosene not even petrol. Her kids were not there
She was lighting up the whole house, then according to them. This was somebody that was madly in love with her husband and this is not the first time that her husband too has threatened himself If she does not come back, I think she probably expected him to say do am or no do am.
"Then when she did it she now stopped for a while and she walked round the house, him he was not saying anything he was like if you wan die, d**. Then I think she light up the curtain and it was burning they were now dragging. She now jacked him like omo…you go give me this paper today, then him pushing her off his body got her into the curtain. 
He also revealed that IVD took off when they secured an hospital to treat his late sister.
Read Also: