Sani Dangote the brother of business magnate and Multi-billionaire, Aliko Dangote is dead.
On Sunday 14th, November 2021, Sani, was  reported dead, it  has been made public that he died in the United State of America.
Read Also: The Secret Behind E-Money's Wealth
His death was confirmed in a short statement released by Dangote Group on Sunday,
"INNA LILLAHI WA INNA ILAIHI RAJIUN!It is with a heavy heart but with total submission to Almighty Allah that we announce the passing on of our Group Vice President, Alhaji Sani Dangote today 14th November, 2021. May Allah SWT Grant him mercy and Admit him in Aljannat-al-Firdaus", the statement reads.
Read Also: APT Keen On 5G Startup Incubation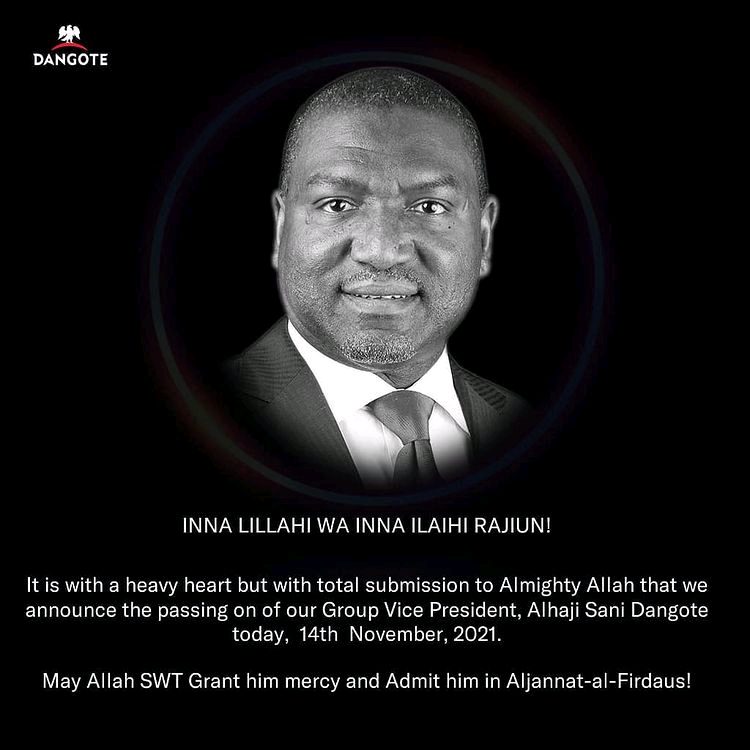 Like his brother, Sani was also a successful business person, he owned Dansa Foods Limited, Dansa Energy, Sagas Energy Limited, Bulk Pack Services Limited, Dansa Agro Allied Limited, and Dangote Farms Limited.