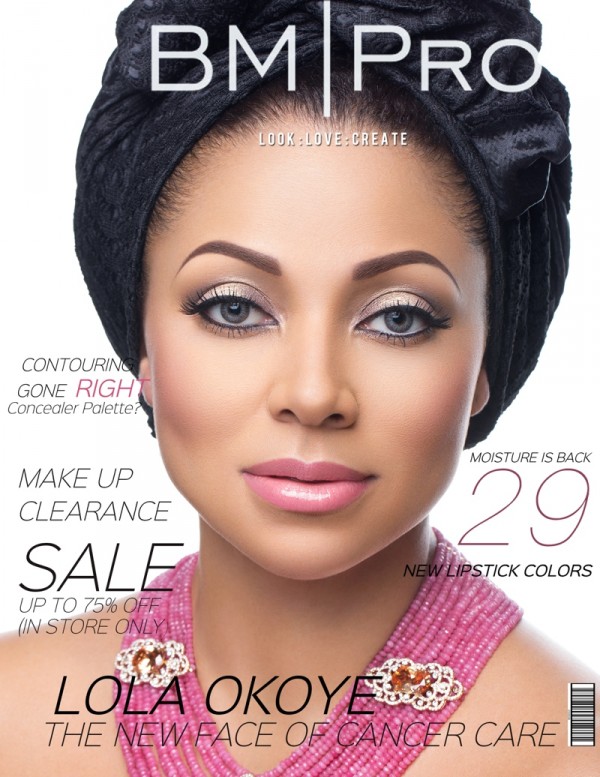 BMPRO Release the first edition of cover featuring  Lola  Okoye  today.
According to the Founder of BM PRO Banke Meshida-Lawal"With so many photos in our archives we came up with this – it focuses on makeup and how we've created the look of our cover girl".
"Our creative director, Yomi Black says "We will work with photographers who capture the essence of beauty."
She also commended the photography, "Having worked with Henry of BigH Studios, he was our first choice for this project.Based in Abuja, working with him is such a fantastic experience. A good listener, he interprets his artist's brief and with suggestions of how it can be better".
Talking  about the model Lola Okoye, "Our cover girl, Lola, a true lady, always a great sport, beautiful inside and outside. Her Cancer Care project was one of the many things we discussed as we did makeup one sunny afternoon at BM|Pro Studios".
"As she sat in my chair with her eyes closed as I applied her liquid eyeliner I couldn't help but wonder at her very kind heart. All around us cancer is so real! Deciding to do her bit for victims, I couldn't help but applaud her. I'm sure as I hugged her "Thank you" for allowing me paint her face, she must have wondered why the hug was so tight!"
Photo Credits: Big H Studios