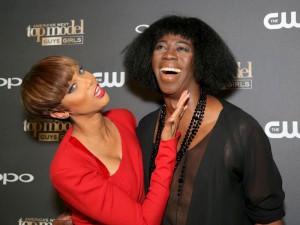 America's Next Top Model lives, allegedly. Although the CW canceled the series after a 22-season run, VH1 has swooped in to pick up the show, New York Daily News is reporting. It's unclear what form the show will return in, but producer Ken Mok, who has been at the show's helm since its inaugural season, will return and is also the one who orchestrated this deal.
Tyra Banks role in the show is not known, but there are cases to be made on both sides on the will-she-or-won't-she-return argument. New York Daily News's source says that the show was either picked up because Banks is no longer involved — slashing the model's massive salary from the budget — or that now she is available because she ditched her talk show FAB Life after just two months.
"The CW cancelled [America's Nex Top Model] even though it was their most downloaded show," a source tells NYDN. "But the speculation was that it's because Tyra's salary is so high. It's an expensive show to make because she gets a s—load of money."
Here's the other side, though: "She said it was time for 'Top Model' to end but her show bombed and now it is getting picked up again," NYDN's source says.
There were rumors that Mok was shopping a show identical to ANTM with the name Top Model in November of last year. Banks was allegedly involved in talks to get this new incarnation of the show off the ground.
Banks isn't the only one unknown for this new project, though. None of the judges have been confirmed for the reboot either.