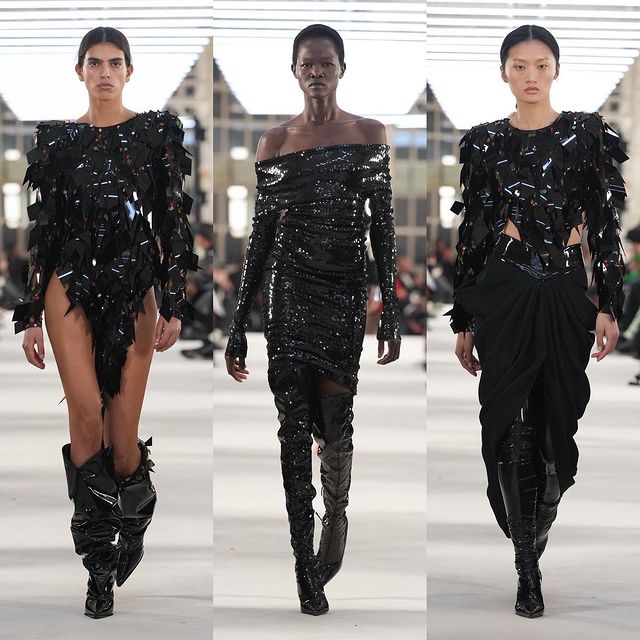 Alexandre Vauthier Haute Couture Week SS23 took us to another era of fashion with some breathtaking designs, the footwears which were used can only be described as gorgeous as the high thigh boots goes well with the outfit worn by the model. Indeed only a true designer can pull such fashion.
Read Also: Georges Hobeika Haute Couture Week Spring Summer 2023
Some impressive color choice were used by the fashion brand. It took 12 tries to acquire the proper fit for a slim pair of pants with hips that were slightly slouchy and hung and had a form that echoed the diamond pattern. In reality, the oversized, puffy sleeves are gloves. On the runway, a black sequined bomber was worn short, but it could also be worn long by loosening the snaps in the back.
A collection that revived classics like razor-sharp fitted jackets or bombers, second-skin pants with quicksilver shine, and extremely sassy hemlines featured various variations, including faux fur. Two black velvet bustier dresses were given an eruption of hot pink flounces by the designer, giving one a sophisticated pouf skirt and the other a sensual, almost organic protrusion of pink lamé.
In honor of Grace Jones, the hood and matching boots were covered in teal sequins. One of many items that put a couture spin on the major motif of the next season—the diamond—while also defying conventional codes—was a tuxedo jacket dress with an asymmetrical underskirt of hand-cut mirror-lacquered rhodoid.
Read Also: Chanel Spring Summer 2023 Haute Couture Collection
See full collection below;