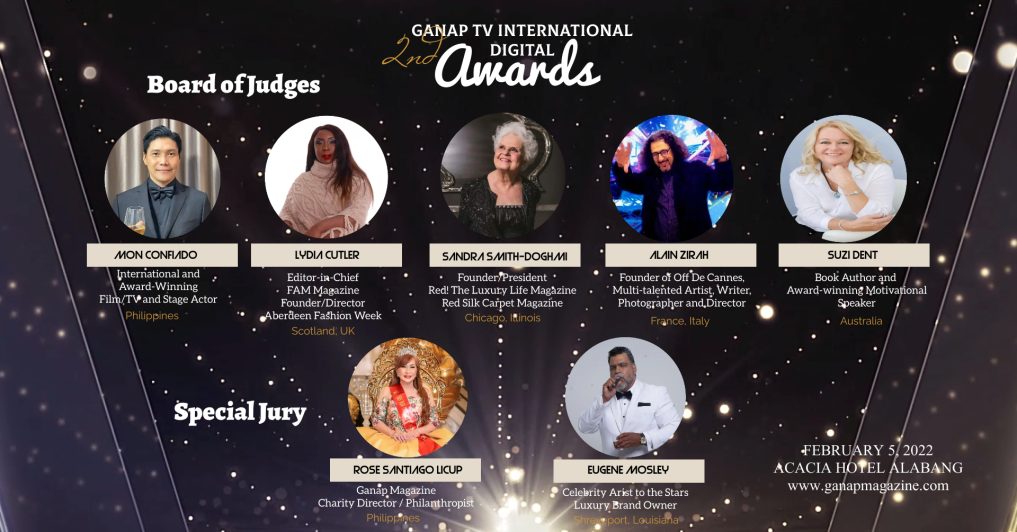 The first and largest digital/live event will take place at Acacia Hotel Alabang on February 5, 2022. This is to honor the winners of the 2nd GANAP TV International Digital Awards and Fashion for a Cause from across the world.
Participants and recipients come from all over the world, including the United States, the United Kingdom, India, Australia, the Philippines, New Zealand, Albania, France, and other countries. The GANAP TV Digital Awards is an international competition that honors creative persons in the realms of fashion, digital programming, art and entertainment, charities, media, brands, models, public servants, and influencers.
Alain Zirah, Lydia Cutler, Suzi Dent, Sandra Smith, Mon Confiado, and Special Juries: Eugene Mosley and Rose Santiago Licup were among the jury's successful and well-respected members.
The GANAP TV Digital Awards were held at a time when the COVID-19 pandemic was sweeping the globe, resulting in border closures, city-wide quarantines, and a slew of cancelled and indefinitely postponed events.
Our goal is to honor those persons who put up effort, share their life experiences, encourage others, and share their talents. As a new enterprise, our mission is to connect people through technology and bring everyone together in the digital economy as we fight a common crisis.
Read Also: Better than Nigeria: 60+ under 60 female achievers
They encourage everyone to support this event especially the people from the fashion and event industry like models, photographers, artists and celebrities as part of the proceeds of this event will be donated to the victims of the typhoon Odette in Bohol. John Guarnes, Bench Bello and Carl Arcusa will showcase their Spring/Summer 2022 Collections.
This year's Ganap TV International Digital Awards media partners are: Red the Luxury Life Magazine, Off de Cannes, Fashion Art Media Magazine, Glamsquad Magazine, Hoinser Magazine, D Fashion Magazine and World Fashion Media News.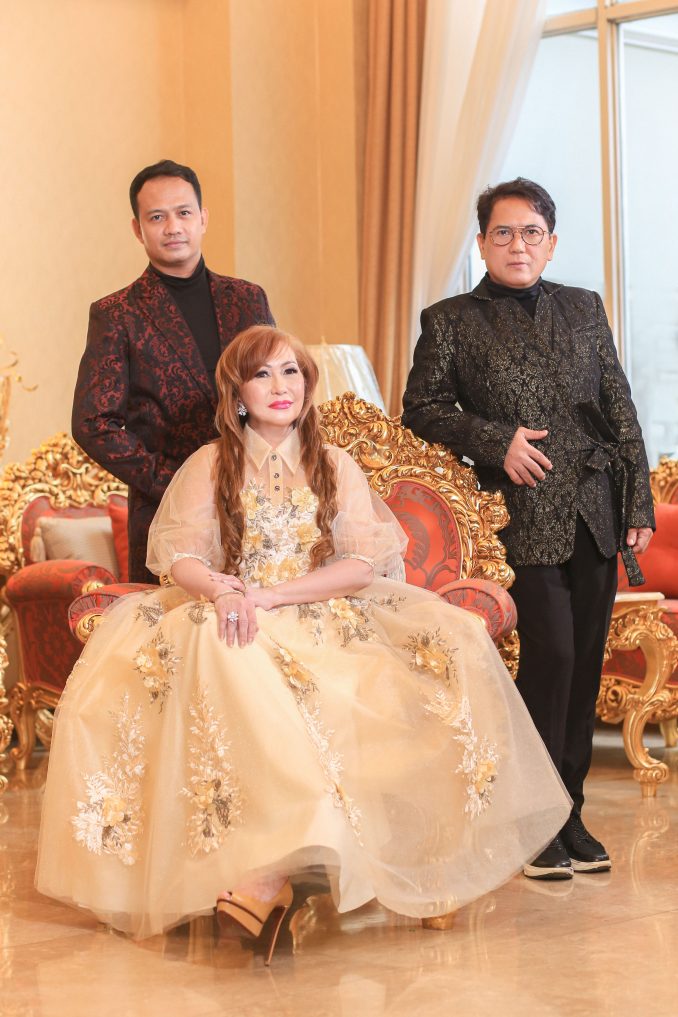 The first GANAP TV Digital Awards was successfully aired last March 20, 2021 at Ganap TV Online channel.  They recognized the Local and International Achievers who've been part and participated on their previous episodes.
Read Also: 10 Most Popular Nigerian Celebrities In 2021
The digital event was hosted by Mr. Nolo Lopez – International Recording Artist, Ms. Mariel Prion – Model and Beauty Queen – Ms Teen GLAM International, Mrs. Charo Calalo Laude- Mrs. Universe-Philippines 2019 and Mr. Lance Raymundo – Viva Artist Singer/Actor/Model/Brand Influencer.
In March 2020 during the lockdown, Global Fashion Designer John Guarnes and International Creative and Technical Director Bench Bello thought of creating an online program and invited guests from different walks of life and tackled a lot of topics to encourage and inspire all viewers not to despair and have the courage to face such a situation. As we all know that many are depressed during this time. Because of the local and international guests of the program who provided comfort and inspiration so it continues to this day.
Last April 2021, they launched the GANAP International Magazine – a print and digital publication designed to bring you the best new and up & coming fashion designers, photographers, models, beauty queens, Hair and Make-up artists,  Events and Lifestyle, new brands/products and charity. There are many talented individuals you never see or hear about. Ganap Magazine seeks to change all of that and wants to give them exposure and highlight. Ganap International magazine is now being viewed in over 70 countries.
The winners will be announced soon!