Social media users across the country have reacted after actress and producer, Toyin Abraham released her long anticipated Nigerian celebrity star studded movie, "The Ghost and the tout too".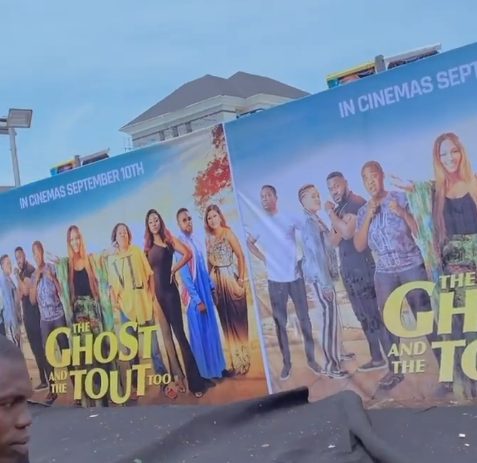 The Ghost and the tout too is a sequel to her box office comedy movie, The Ghost and the tout.
Toyin Abraham and Sambasa Nzeribe feature in 'The Ghost and the Tout,' which was released in 2018. The story follows Isila, a vivacious hustler whose life is turned upside down when she meets a ghost (Mike), who is both astonished and delighted she can see him.
The sequel was released across cinemas in Nigeria on 10th September. Popular Nigerian movie reviewer, Cinema Pointer wrote this, "Not Recommended for intelligent people. Over the years, we have told you many truths but non Greater than this: Intelligent minds were not taken into consideration at all in the writing and in the making of 'Ghost and The Tout Too'. Thusly, intelligent minds will not enjoy it at all.
Regardless of how flagrantly it copycats off 'Ómó Ghetto: The Saga' desperately hoping to shine like it. Unlike that one 'The Ghost and The Tout Too' doesn't understand that movie-making is rooted in brain-work and not in using cinema to do "Yahoo", abusing stardoms to fleece fandoms.
Sadly, in 'The Ghost and The Tout Too', celebrity after celebrity only lead to leprotic performance after leprotic performance. As a haplessly brain-dead story leads to pointless scene after pointless scene, all soaked together in a deluge of sterile dialogue. So much so that trying to find any mirth seeing it would be an exercise in futility.
Trust us, IF you are intelligent, you are better off staying back home this weekend to watch 'Ómó Ghetto: The Saga' which incidentally opens on Netflix this Friday, 10th of September 2021. If not. Brain Go Pain You Tire."
This review caused commotion as fans of both  Funke Akindele and Toyin Abraham took to the comment section of the post to react.
One Bukandy wrote, "Even if you wanted to criticise the movie, you could have taken initiative and waited for some time. That movie came out today, let's not even talk about the enormous resources that must have been spent on it.
And to be honest, this is not constructive criticism, rather a very condescending review, (it reeks of hatred and bitterness) which is absolutely unacceptable and unhealthy, even to you the writer.
Finally, you didn't have to compare it to the other movie to pass your demeaning criticism."
Another user commented, "Why do you people believe cinema pointer must be paid because of this??? Is this the first time they're no recommending a movie…. take their opinion or leave it. Simple"
One Stephen Cobhams wrote, "This is definitely bullying at this point. Why mention omo ghetto in the review??"
One Gbolahan McJob wrote, "I knew from the title that this sort of film could diminish my brain cells if I watched it."
The Ghost and the Tout too is also about a young lady who grew up in a Ghetto and encounters a ghost after a terrible tragedy. Her life is soon plunged into a succession of events that only she can see and comprehend.