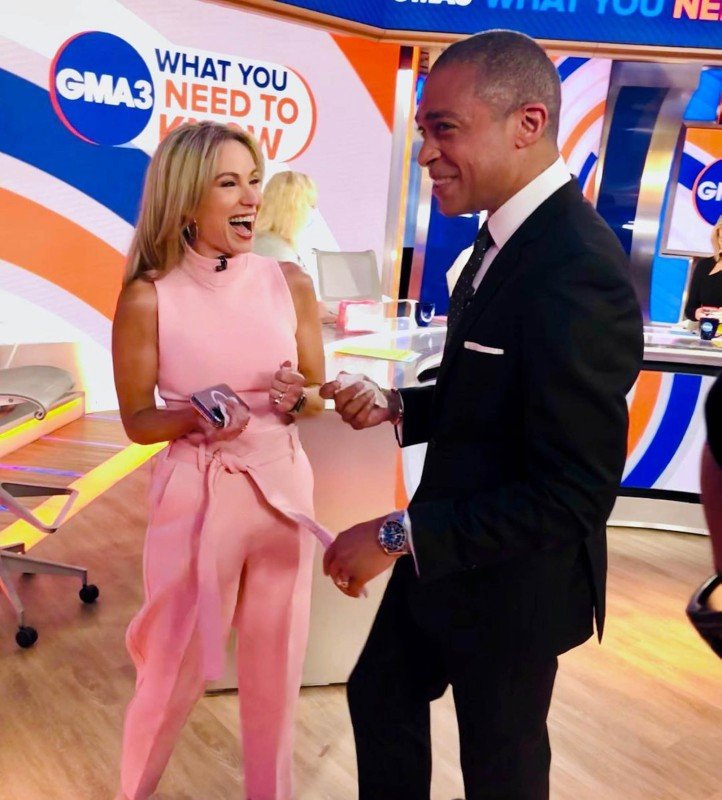 Following their departure from ABC, Amy Robach and T.J. Holmes seem ecstatic.
After leaving a restaurant in Los Angeles on Friday, the ex-"GMA3" anchors who have since fallen in love were seen beamingly embracing one another.
This was just hours after they had signed separation agreements with their former employer.
In images obtained by the Daily Mail, Robach, 49, is shown hugging Holmes, 45, while holding her up with his arms over her back and her legs around his waist.
The two could be seen kissing, holding hands, and laughing together in other pictures as they basked in the LA heat.
Holmes wore a pair of blue jeans, a black sweatshirt, a pair of black and white sneakers, and sunglasses for the outing.
Robach, meanwhile, wore a gray cardigan, high-waisted trousers, brown open-toe heels, and a pair of sunglasses.
When the former co-hosts and ABC got their deals "signed, executed, and done," according to sources who previously spoke with Page Six, that was when the couple's most recent outing took place.
Later, an ABC News representative issued a statement confirming the information, saying, "After several productive conversations with Amy Robach and T.J. Holmes about different options, we all agreed it's best for everyone that they move on from ABC News.
"We recognize their talent and commitment over the years and are thankful for their contributions."