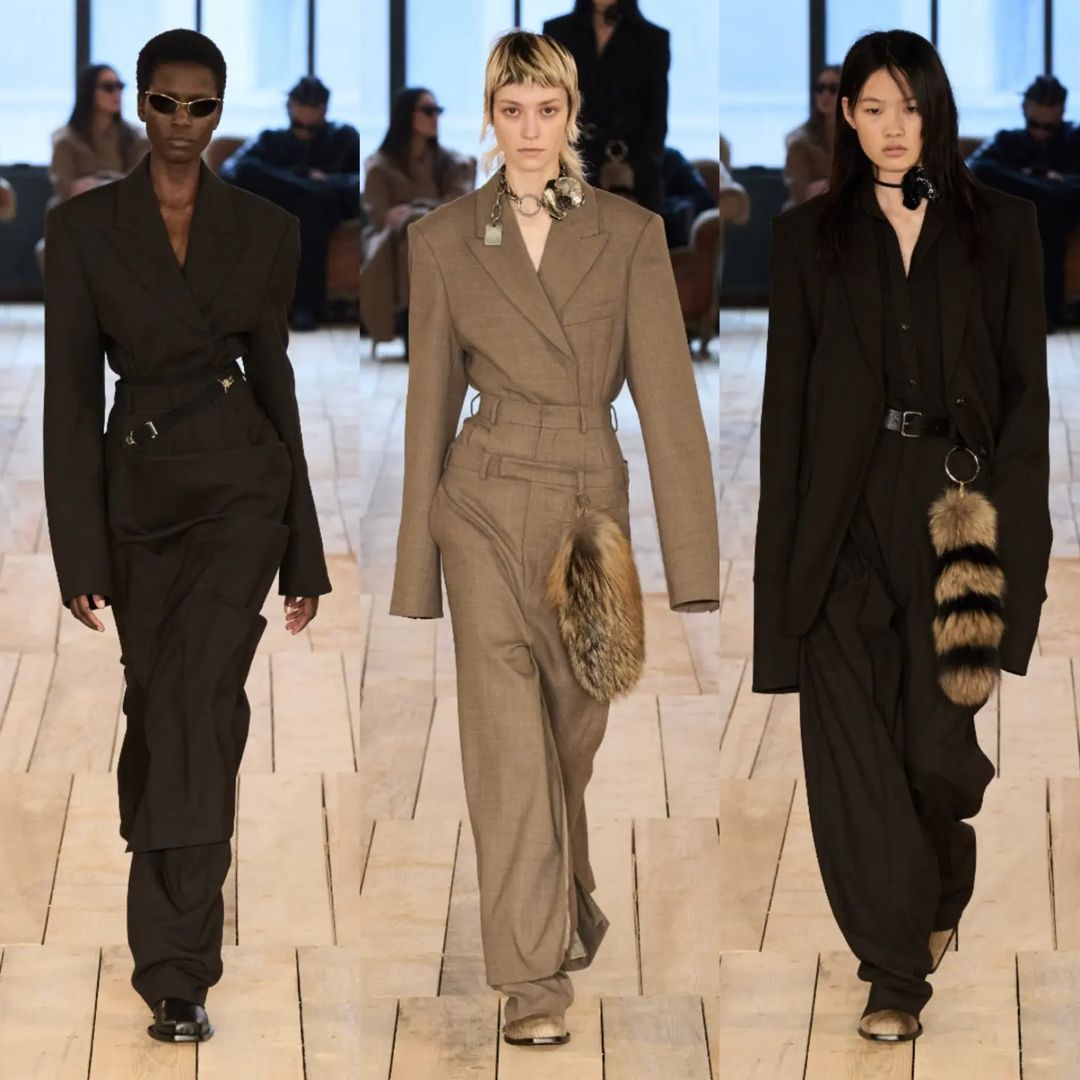 Sportmax FW 2023 RTW Collection brought about some pretty amazing designs as the fashion show started with what seemed like skunk tail hanging on the side of the outfits being presented. The well tailored pants seem to go well with it, though it gave it a different yet unique look.
Read Also: Moschino Fall-Winter 2023 Ready To Wear Collection
The deliberate contradictions were a back and forth between oversized tailoring—subverted by unconventional twists such as fringing, exterior belting, elongated sleeves, gaitered leg hems, and trompe l'oeil layered pants—and dresses with similarly deliberate twists.
The dresses in velvet and jersey were meticulously assembled to resemble a convict's escape route of tried together bedsheets. The hems of two lace dresses, one strapless and the other one-armed, were dipped in a paint-like membrane. Dresses and knits were held together with crocodile clipped garter elastics, and a pair of nicely puddled black trousers was worn south of a pair of menswear garters: they were clearly attempting to convey tension.
The animalistic was hinted at with faux tail belt charms and mock python print tailoring—the red suit was quite strong. A loose-fitting sleeveless mid-length tube dress in lurex-y silver with a sleeve-sized section connecting one breast to another. The models' toes could be seen straining for traction against the shaggy shearling lined footbeds on their heels. The chiseled toed cowboy boots, which were colored to match the yellow, apricot, or blush tailoring above, appeared less bothersome.
Because Sportmax lacks an authorial voice—it is created by a long-standing in-house team, sometimes with guest designers—it must express itself clearly on the runway in order to convey the intention behind its design.
Read Also: Tod's Fall-Winter 2023 Ready To Wear Collection
See full collection below;