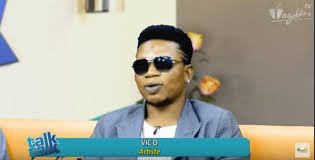 In a recent development, Nigerian singer, Vic O has challenged Ghanian artist, Shatta Wale to a rap battle.
Reacting to what Shatta Wale had earlier said about Nigerian artist, Vic O has challenged him to a rap battle saying he will resign from music if the Ghanian artist wins.
Read Also: Moment Loyal Fans Saves Singer Portable From Falling During A Stage Performance
This statement was made when the Reggae-dancehall artist was fortunate enough to fill the Accra Sports Stadium, which is the second biggest in Ghana, he then went ahead to slam all Nigerian singers saying he doesn't need them for anything.
Obviously the statement didn't sit well with Vic O as he has reacted.
He wrote,
"vico_vno
@shattawalenima if you say u the best i challenge you to a #rapbattle or a #singbattle
Cos i know you're just running mouth.
You have the guts to insult naija stars.
When I'm done with you,
You'll cry for mercy to get into the studio again.
@shaft awaken I M's if u win i resign from Music
This is no joke..
I'm just lack of good management if i had one you won't see my break light"