Diana, Princess of Wales, captivated the world from her first appearance as the beautiful "Shy Di," through her "fairytale" wedding to Prince Charles, their terrible divorce, and her untimely death.
Here are five facts about her that you might not know.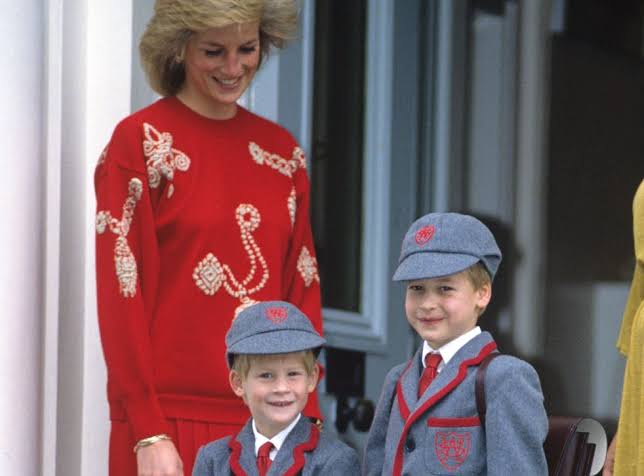 1. She had a brother who died when he was a baby.
Diana Spencer was the aristocratic Spencer family's third daughter, born in 1961. "It was a really terrible upbringing," she said Andrew Morton for the book "Diana: Her True Story." I couldn't understand why I was a bother to keep around, which I subsequently realized was part of the larger issue of the child who died before me. It was a son (John, who died within ten hours of his birth in 1960), and both my parents thought having a son and heir was insane. 'What a bore, we'll have to try again.' Then there's a third daughter." In 1964, her parents had a son named Charles.
2. Her Handbag Trick Fooled the Photojournalists
Anya Hindmarch, one of Diana's favorite accessory designers, produced a clutch purse that she strategically displayed. "She'd pop into our first shop on Walton Street without any bodyguards, and she was really lovely, very low key," Hindmarch told The Telegraph. "She always referred to [the Anya clutch] as her 'cleavage bag,' because she used it to preserve her modesty when she stepped out of the car." There are multiple photos of Diana with her clutch purse up by her cleavage. The duchess of Cambridge, Kate Middleton, likewise only carries a clutch, but for different reasons.
3. She Was Terrified of Landmines at First
Diana became active in the cause of unexploded land mines left over from conflicts in her latter years, which caused villagers to lose limbs after unknowingly treading on them. In February 1997, she appeared in a well publicized BBC documentary in which she wore protective gear and went through a land mine-infested area in Angola. She was joined by Paul Heslop, who worked for an organization that eliminated land mines at the time.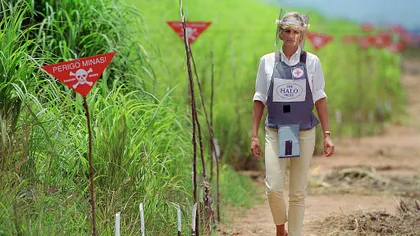 "She wasn't making eye contact, and I got the impression she was disinterested at first," he told the BBC in 2017. "And then, when the full swarm of journalists descended from the other planes, I saw why she was so scared." And this poor woman was ready to enter a live minefield, a deadly location, in front of hundreds of millions or billions of people watching on television, and I remembered the first time I went into a minefield, and I was terrified."
The princess was shown a dummy land mine in the field and pushed a button to detonate it, much like Heslop's team did. They took every precaution to keep her secure. "I didn't want to be on the top page of the news the next day as the man who blew up Princess Diana," Heslop explained. A year after Diana's death, the United Kingdom approved the international treaty prohibiting the use of land mines.
4. The car in which she died was structurally unsafe.
Diana died in a vehicle crash in Paris on August 31, 1997, which has sparked debate ever since. Although conspiracy theorists believe her death was staged, many of the questions surrounding her have been resolved. One involved the location of a white Fiat Uno that was traveling slowly through the tunnel that Diana and her boyfriend Dodi Al-Fayed sped through, with driver Henri Paul at the helm. Some people wondered if the automobile was deliberately placed there to induce Paul to lose control of the car. The automobile was never found by police, but it was discovered by some French journalists that it belonged to a Frenchman of Vietnamese heritage. Fearful of the hubbub around the incident, the man fled and later repainted his automobile crimson.
READ ALSO: Queen Elizabeth Will Not Celebrate Her 94th Birthday this Year Due to Covid-19
The journalists also revealed that the Mercedes Paul was driving had instability issues and had been written off after being involved in a serious collision two years prior. Despite this, the car was restored and sold to a limousine company, which used it to transport Ritz hotel guests. Paul, who perished in the crash with Diana and Al-Fayed, had a blood alcohol level that was higher than the legal limit.
5. A Broadway Musical Based on Her Life Is in the Works
The creators of the Tony-winning production "Memphis" have written a musical named "Diana," which has piqued the interest of Broadway producers. The plot revolves mostly around Diana's marriage to Prince Charles and will include all of the typical suspects, such as Queen Elizabeth and Charles' mistress-turned-second wife Camilla Parker Bowles. Expect a lot of '80s-style music from the team's composer-lyricist David Bryan, who is also the keyboardist for Bon Jovi. Its premiere date has been pushed back multiple times due to the COVID-19 pandemic, but it is finally set to air in November 2021. But first, it will be available on Netflix in October as a first-of-its-kind film.
That is intriguing.
Diana showed empathy for others from a young age. She went to see the elderly in a home once a week at her boarding school. "That wowed me. "It was like a warm-up for bigger things," she explained in "Diana, Her True Story.""
Frequently Asked Questions about Princess Diana
How much did Princess Diana's wedding cost?
The royal wedding of Prince Charles and Princess Diana cost an estimated $48 million, which equates to a stunning $137 million today when adjusted for inflation.
When did Lady Di die?
Diana died in a vehicle crash in Paris in August 1997, which has sparked debate ever since. Although conspiracy theorists believe her death was staged, many of the questions surrounding her have been resolved.
Who was behind the wheel of Princess Diana's car when it was hit?
Henri Paul was in the driver's seat.
What was the cause of Princess Diana's accident?
Henri Paul, who was intoxicated at the time of the collision, was driving at 90 mph (145 kph).
How long did Charles and Diana have a marriage?
For 15 years, Charles and Diana were married. In 1996, they divorced.
READ ALSO: Princess Diana's wedding gown on display for the first time in 25 years