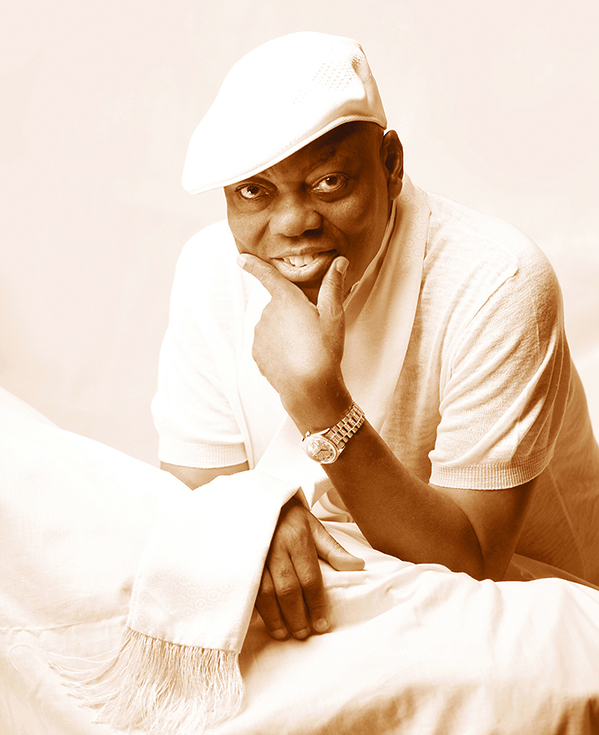 Chief Razaki Akanni Okoya is a billionaire industrialist and Aare of Lagos. He was born in Lagos on 12 January, 1940 to Tiamiyu Ayinde and Alhaja Idiatu Okoya. He had his only formal education at Ansar-un-deen Primary School, Oke-Popo, Lagos.
He is the owner and founder of Eleganza Group of Companies that has a market spanning the entire African region. Chief Okoya worked with his father's tailoring business which also included the sale of tailoring accessories. The experience he got during that period gave him the confidence to start mini-tailoring activities on his own. He saved every penny he made until he had 20 pounds. His mother gave him an extra 50 pounds with the blessings of his father. 
He needed to start importing and trading in goods from Japan. From tailoring, he branched into jewellery and, in no time, Chief Okoya's business expanded swiftly. He travelled far and wide and learnt how things were manufactured; having the strong feeling that Nigeria could match that quality, if not better.
Today, under his chairmanship, Eleganza Industries produces a wide range of household goods and utensils, including cutlery, collieries, food warmers, ice chest, electric fan, cosmetics and ballpoint pens. His factory locations include Oregun-Ikeja, Isolo, Alaba and Iganmu. The company now directly employs over five thousand Nigerians and non-Nigerians, including those working in his RAO Property Investment Company. 
Okoya's Eleganza Group is one of the biggest home-grown conglomerates in Nigeria today with over six factories. Its products are household names in Nigeria and neighbouring African markets. 
In this interview with Allure, he talks about turning 76 and manufacturing in Nigeria.
Congratulations as you mark 76. What has changed about you, Sir, as you mark this day?
Thank you so much and compliments of the season. Nothing has really changed about me except for the fact that I am still working – which I sincerely believe is what has kept me strong and fit and this has also kept me going.
When you take stock of your great achievements in business, what would you say is the unique formula that aided your phenomenal success in business?
I give God the glory for giving me the determination, foresight and focus. I am a very determined person. I hate to fail in whatsoever goal I set to achieve, Insha Allah!
I thank God that it has always been possible. That's why even at 76 years, I still love to work because it gives me pleasure.
How would you assess the environment for success today compared to when you started?
When we started, there were lots of business opportunities in Nigeria at that time compared to today – where there are too many business competitions.
The mindset of the youths of nowadays is to make quick money. In my time, young individuals were encouraged to set their goals and achieve them; but now, so many foreign products have flooded the Nigerian market which makes it very difficult for local industries to succeed.
Many companies are feeling the pain of the economic policies of government. As a matter of fact, many have closed down. What has kept the Eleganza Group operating and what cutbacks did you make to survive?
One of the major challenges is the issue of power to run the industries but we are committed to remain in business with the passion to fulfil our aims and objectives to offer over 2,000 Nigerian youth employment.
There was a time when Eleganza had myriad of products but today there is a sharp drop and popularity seems to have waned. Has the competition taken a chunk of your market?
The Eleganza of today is stronger and more stable than yesteryears. Today, we have more range of products from chairs, coolers, travel bags, diapers, lady sanitary products, beauty soaps, laundry soaps, and multi-purpose soaps. Others are pet bottles plus caps, pre-form bottles, shoes, hair threads, disposable/reusable plates and cups, waste disposal containers (waste-bins) and stainless water tanks.
They are produced locally at our new Eleganza Industrial City Layout at Epe, Ibeju-Lekki Expressway, Lagos. We also have real estate investments in prime commercial areas and luxury residential estate in Lagos State.
For some years now, the real estate business has been very bad; we have lots of vacancies in our estates. The worst hit is our Eleganza Plaza Complex, Apapa, Lagos State.
In terms of property, you do have a unique design; often very huge properties. Would you say you've had as much success as a property developer?
At one period, in Nigeria, maintaining industries was becoming frustrating; so, we diversified into property investments on a large scale – just to keep the staff in employment. Don't get me wrong, we still continued with the industries but without introducing new products like we have done now.
However, when we achieved our set goals in the property sector; which led to the new Eleganza Industrial City Ltd., Eleganza is back – bigger and better than what it used to be known for.
What are your most important values in business and life?
Hard work, sincerity, steadfastness and honesty.
What is more important for you as a businessman – passion or intelligence – and how have you employed it in your journey to who you have become today?
Passion with drive takes priority in all my endeavours. I love what I do; as a result, I don't see myself working because when you enjoy your job, it becomes a hobby. But to be successful and be able to maintain market leadership over the years, you must be intelligent on how to diversify as and when necessary.
Looking at Nigeria today, how should government act to encourage industrial growth?
The Federal Government should stop the importation of goods that can be produced locally and increase the custom and excise duties on imported finished goods. They should also ensure that goods are fully monitored at the port of entry because some importers are involved in sharp practices, denying the government of stipulated revenue and also killing local manufacturers.
Smuggled goods into the country are also killing manufacturing industries. No country can survive with foreign goods competing with its locally manufactured goods as we have in the country just as no country will survive by allowing smuggled goods.
What should be done to encourage production?
I think they should establish more technical schools. Most graduates leave school and go to work for other people. But, if you are trained as an electrical person, a designer or a carpenter, you will like to set up your own business and work for yourself. So, I think government should encourage more technical schools so that we can get more independent people who are not waiting for government.
We need to go into (more) production. That is the backbone of development. We should stop all these importations and encourage local industries to produce. One of the ways to do this is to fix the electricity power problem; if not, we are wasting our time.
Even if you encourage local production, there is the inherent issue of quality of Nigerian goods. The quality is very poor.
Quality is very important. Personally, I make sure the quality of my goods is excellent. My coolers, for instance, can compete with any in the world. And, I can tell you that my coolers are better. This is because I put our environment into consideration. So, you find that mine lasts longer. It preserves food longer than any imported one.
People say it is extremely difficult to do business in Nigeria. Do you agree?
Today, electricity power is a very big problem. Once the problem of electricity is solved, things will be better; especially for businesses. For example, we employed over 3,000 people five years ago. But due to epileptic power supply, it was not possible to retain all of them.
Once this is solved, 50% of the unemployed will get jobs. No amount of money you pump into manufacturing will help if that problem is not solved.
At 76, are you still actively involved in running the company? Will you ever retire as chairman? At what age do you think it's appropriate to say: 'God be praised. I am taking a break'?
As I said earlier, I have passion for what I do and seeing products or items overseas stirs a passion in me to see same or similar products produced in my country. I love to attend trade fairs all over the world; and when I get ideas, I put them into actualization.
I can't be seen running the day-to-day activities as I don't have that patience or time but I am always on board to give necessary/useful information when needed. Experience cannot be bought as you grow into it. The day-to-day running of the manufacturing sector is managed by my wife, Dr. (Mrs.) Shade Okoya and my son, Lanre Okoya is a director along with other senior, experienced managers and a few expatriates.
The property sector is managed by the Group Property Manager, Mrs. Modupe Solanke and other management team members.
What makes you happy these days?
I derive happiness through my establishments; that many are able to wear smiles on their faces and also put food on their tables.
How do you keep fit?
I love swimming and going to the gym to keep fit. I also enjoy spending quality time with my wife and the young children.
Finally, look into the future for Nigeria. How do you think she will fare this year?
I believe in this great country, Nigeria, and I believe that with good policies, it will be greater than before.
Production is my life. I enjoy manufacturing goods. I have travelled to China several times; I get inspiration from what I see in China. Everywhere in China, you see cottage industries scattered around in all their provinces. We should emulate and follow them.
Most reasons why the youths are not employed could be based on the fact that they lack technical knowledge and skills. Most of them have no technical background, no research institute or centre where they could learn and become self-dependent. The Government should help to make the youth focus on having an independent, self-employed future by giving the youth the required technical knowledge.
Graduates should be technically inclined to fit into any manufacturing industry, thereby reducing the number of foreigners employed as expatriates.
Today, Nigerians depend on imported goods; even with lots of natural resources in our forests, we still cannot help ourselves in terms of producing furniture and other basic needs – because, our youths do not have the required knowledge and skill to produce. We need to train them.
By Remmy Diagbare