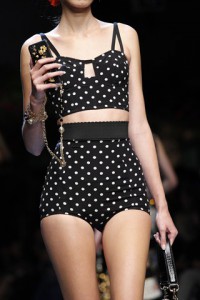 A recent survey carried out by John Lewis, the nation is currently favouring larger underwear, as opposed to thongs.
Bridget Jones favourite lingerie style is no longer considered an embarrassment according to John Lewis
"We finally fell out of love with smalls in favour of big, comfy panties. No longer associated with Bridget Jones, the big panty is now beautiful," the company relayed. "Fishnets gad a sales peaks in December, but not even the launch of Fifty Shades of Grey was enough to save them."
And to be honest we are kind of over the idea of thongs. Every girl or woman wants a smaller waist so now we have very comfy pants that shows now lines, lifts your bum and chinches your waist . Good bye Thongs, Hello! Big panties.