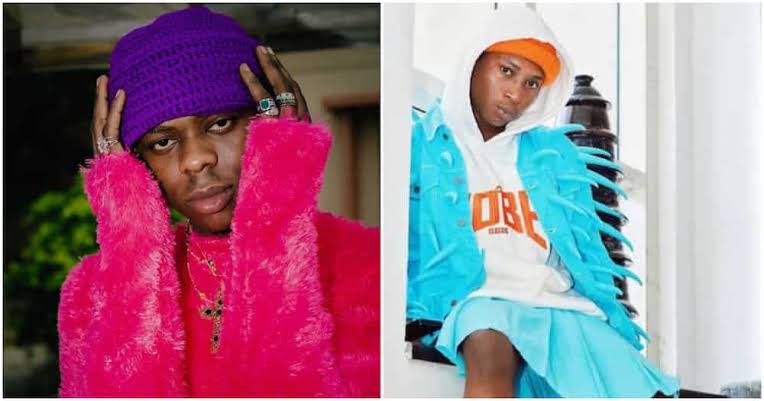 Millions of naira have been credited to singer Mohbad's colleague and best friend Bella Shmurda as a birthday gift, glamsquad reports 
READ ALSO: A label is suppose to be your family not your enemy – Bella Shmurda reacts to Mohbad's debacle with Naira Marley's record label
Bella Shmurda recently celebrated his birthday by taking a vacation to a location he did not reveal, but based on the videos he shared online, it was a stunning location. He also brought a lady who is thought to be his girlfriend, but the singer has not confirmed or denied the claims.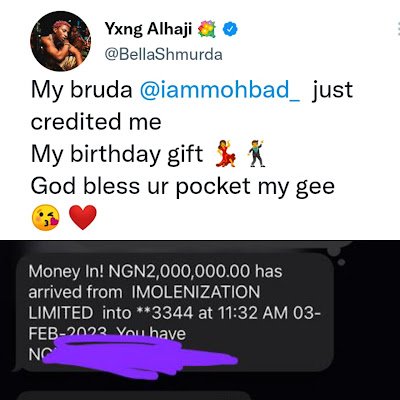 His colleague and close friend Mohbad surprised the singer with a sum of 2 million, which left Bella speechless and prompted him to thank Mohbad on social media. In his thank you note, he addressed Mohbad as a brother, reminding him that he always has his back if anyone acts strangely. To support his emotional state, he added a dancing emoji, a kissy face emoji, and a love emoji.
Bella Shmurda Kisses Mohbad for Giving Him $2 Million as a Birthday Present
Glamsquad recently covered the story of Mohbad nearly committing suicide as a result of everything he's going through. Because of the sensitive nature of the situation with Mohbad and his record label boss Naira Marley, Bella Shmurda spoke up for him when everyone else remained silent.
Naira Marley, Mohbad's former label boss, was accused of threatening his life. Following his departure from the record label, the singer filed a lawsuit against Naira Marley for unpaid royalties and threats. With everything going on, Bella seemed to be the only one who was there for him and speaking up about what Mohbad was going through, revealing that he almost jumped through a window recently if he hadn't entered the room on time and also because Mo's girlfriend intervened.
Everyone else is afraid to speak up about the situation for one reason or another, but he isn't because no one is feeding him and he's the boss of himself, but he will always speak up when he sees the truth. He added that he hopes they can resolve their differences amicably because it is affecting Mohbad's mental health.