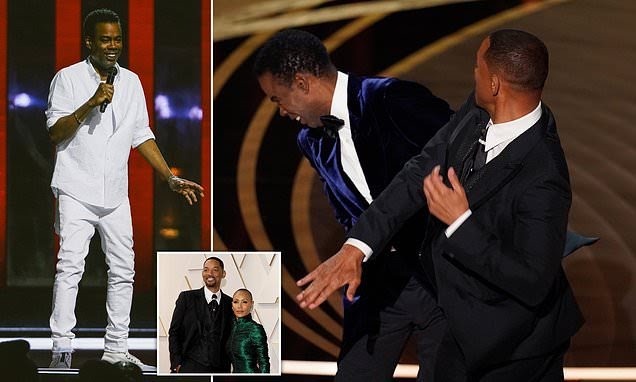 Actor, Will Smith is reportedly 'embarrassed and hurt' by Chris Rock's decision to base a Netflix special on their notorious clash at the 94th annual Academy Awards in 2022.
Glamsquad recalls that Smith marched onstage and slapped Rock across the face for making a joke about his wife Jada Pinkett-Smith's alopecia.
The academy has since punishee Smith, 54, with a 10-year ban from the awards ceremony. However, Rock, 58, still went ahead to use the incident as source material for his new stand-up show, Chris Rock: Selective Outrage.
Appearing at the Hippodrome Theatre in Baltimore, the city of Pinkett-Smith's birth – Rock took a series of shots at the married couple, including speaking on her extra-marital affair with singer August Alsina.
Sources have since told Entertainment Tonight that Smith has been deeply affected by the Netflix special, and is keen for Rock to 'let it go.'
The outlet further claims that while Smith is reportedly hurt and embarrassed by Selective Outrage, he is yet to actually watch it and has instead been informed of its content from those who have.
Rock has accused the Oscar-winner of having 'selective outrage' during the show's finale and added salt to the wound by rehashing Pinkett-Smith's well documented infidelity.
But a source close to the comedian tells DailyMail.com that it could have been avoided with a simple 'I am sorry'.
A source close to the comedian insisted that Chris never got a one-on-one private apology from Will, only the public one which really meant nothing'.
Will has only addressed the situation twice, once on Instagram the day after the Oscars and once in a video apology. But the insider insisted that Rock's decision to rehash the scandal in his Netflix show had nothing to do with seeking revenge, but was rather a way for the comedian to 'get it all out' and 'be done with it'.
The insider added that 'Chris wanted to get this out once and for all and be done with it. This was very cathartic to him'.
The infamous slap occurred in March 2022 when Rock took the stage to present an Oscar for best documentary feature.
Turning to the Smiths, he said that he was 'looking forward' to seeing Pinkett-Smith in G.I. Jane, poking fun at her shaved head.
Smith immediately got up on stage and slapped Chris. After returning to his front-row seat, he yelled, 'Keep my wife's mother f***ing name out your mouth.'
Read Also: "The children's titles have been a birthright" Prince Harry and Meghan release new statement about Archie and Lilibet's royalty