Fashion's Newest babies –  Jazzed Up Brides
By Pamela Echemunor
Bridal wear right from the get go has been the simple all white dress with its accompanying drape-over veil, and for every bride finding the perfect wedding gown can be like finding a needle in a haystack of glamourous options, so instead of sticking to the usual simplistic trend, designers have devised various ways to jazz up the modern day bride for her special day, here are some fashionable ways to tweak your wedding dress and scare off your inner bridezilla.
A touch of colour
Typically brides traditionally wear the all white wedding dress, a significance of purity and chastity, you can still stay chaste and pure but with a touch of pink, green, blue of black on your dress , hair or feet.
Dress or Separates
From the late Oscar de la Renta to Carolina Herrera and Viktor and Rolf all tweaked bridal wear in the most fascinating ways, Oscar de la Renta's Ivory suit;Carolina Herrera's embellished sweater and tulle skirt, basically anything goes, all that matters is to seize the day.
Punchy prints and textures
Sometimes  brides think to themselves, after today what am I to do with this over the top expensive dress, well if you plan to use the dress again, style it in a way it can be worn for another occasion, opt for a more textured look with punchy print detail and see if I still looks too wedding gown-ish.
Vast Veils
The dress tends to take a lot of attention and the veil oddly neglected, this season its veils all the way, forget the simplistic small coverup and go Kardashian with a full long stretching veil, take a cue from Viktor & Rolf's dress covered in silk flowers, Elie Saab's embroidered with tiny blooms, and Marchesa's sheer tulle extra-long veil.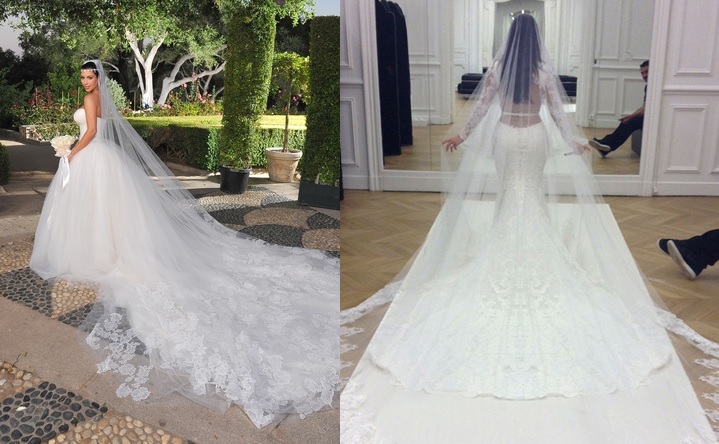 The XL Ball Gown
As far as everyone is concerned the wedding day belongs to the bride, so opt for a dramatic entrance fit for a princess in the biggest ball gown you can find, some designers create a detachable skirt making it easy to go from church to reception in a single tug.