Nigerian celebrity actress, Iyabo Ojo, has called out Funke Akindele for allegedly paying movie reviewer, Cinema Pointer, to negatively critic Toyin Abraham's new movie, The Ghost and the Tout Too.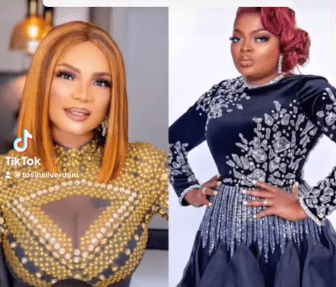 Glam Squad Magazine earlier reported that Cinema Pointer rated the movie zero, as they advised Nigerians to watch Funke's Omo Ghetto the Saga instead.
"Trust us, IF you are intelligent, you are better off staying back home this weekend to watch 'Ómó Ghetto: The Saga' which incidentally opens on Netflix this Friday, 10th of September 2021. If not." Part of the review reads.
Iyabo Ojo got mad at the review and commented, "How much did Funke pay you to write this rubbish? The day she begins to find ways not to talk to bad about her fellow colleagues or discredit their work or personality, that day she will begin to experience inner peace,"
Popular alleged house thief, Blessing Okoro, also Known as Blessing CEO then commented, "A lot of u don't know what happens behind closed doors . You will be shocked that the bad is actually the good. When u are honest and bold they think u are troublesome. But na the so called calm personality they kill people burry . I just pity the shallow followers"
One Busayo Gbenisola commented, "I like the two of them but I don't think the person that reviewed the movie did something right let's be sincere to ourselves if you want to review a movie review and don't compare you're reviewing a movie why are you comparing it with the one that came out last year was that actually necessary let's be truthful to ourselves now. these people are working hard to entertain us why all these."
Sleek Valerie wrote, "That was not a constructive critic. That page shld not have compared Toyin's movie with that of Funke. To me it was done to spite Toyin. Moreover i av watch Omo ghetto the saga, that movie does not worth the hype. It was a beautiful nonsense."
One Oluwa Damilare commented, "I'm seeing this movie tomorrow, my sister's saw already and they had a good time , anyone who has truly seen it should comment here , so other's would know it a good movie."