Fr. Mbaka is constantly in the news for various reasons, including prophecies, miraculous healings, and relationships with politicians, among others. He was the first minister to predict Hope Uzodinma's victory over former Imo State governor Emeka Ihedioha, a prediction he later described as 'Risky.'
READ ALSO: Biography Of Kizz Daniel: Net Worth, Songs, Age, Twins, Father, Brother & Facts
Rev. Fr. Ejike Mbaka's biography, date of birth, age, early life, education, family, parents, church, business, net worth, houses, cars, social media handles, and anything else you'd like to know about him would be covered.
Rev. Fr. Ejike Mbaka, one of Nigeria's most popular ministers, is the founder and Spiritual Director of Adoration Ministry Enugu Nigeria (AMEN).
Fr. Mbaka is constantly in the news for various reasons, including prophecies, miraculous healings, and relationships with politicians, among others. He was the first minister to predict Hope Uzodinma's victory over former Imo State governor Emeka Ihedioha, a prediction he later described as 'Risky.'
Biography of Rev Fr Ejike Mbaka

Don't forget to leave us a comment and share this article with your friends at the end.
Biography of Rev Fr Ejike Mbaka
Before we go any further, here are a few facts about Rev. Fr. Ejike Mbaka and a synopsis of his biography
Father Rev. Fr. Ejike Mbaka was born into the family of late Chief Humphrey Ogbuefi and Felicia Mbaka of Amata Ituku in Enugu State's Awgu L.G.A. In the Ituku community, his father's family was known for their special talent in palm wine tapping.
According to information shared on the AMEN Facebook page, the arrival of the new born brought relief to his father, who had assumed he would be taking over the family business. He had no idea that the new born had a different covenant with God and would be taking a completely different path.
Mbaka was deeply involved in the revitalization of the Charismatic group in St. Anthony's Parish Ituku as a young boy, where he led the prayer warrior team. He was well-known for organizing Block Rosary Prayers, in which he frequently played the role of Francisco (one of the three children visited by Blessed Virgin Mary in Fatima in Portugal in the year 1917).
Education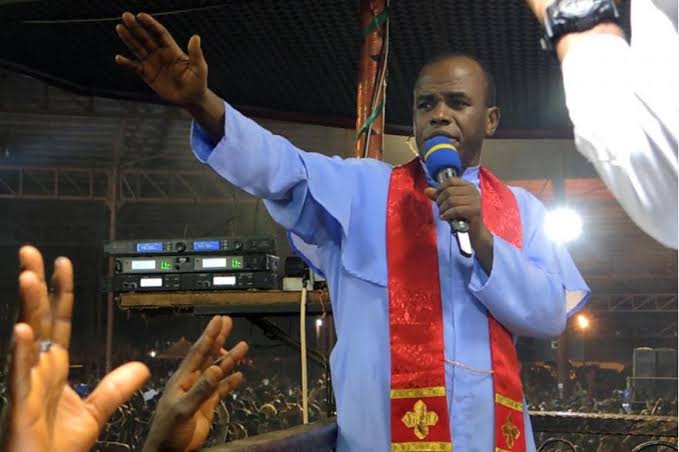 Rev. Fr. Ejike Mbaka received his secondary education at St. Vincent's Secondary School Agbogugn in Awgu L.G.A of Eungu State before transferring to the Seat of Wisdom Seminary Owerri and St Joseph's Ikot Ekpene for his training and nurturing to priesthood.
Rev Fr Ejike Mbaka's father, who was a pagan at the time, tolerated his local runs in the town's Christian activities, but changed his mind as soon as 'Cami' stated his desire to join the priesthood. According to reports, Pa Ogbuefi and his kinsmen not only opposed the idea, but also persecuted the youngster for his ambitions.
Rev. Ejike Mbaka was ordained a priest of the Holy Roman Catholic Church on July 29, 1995. As the Assistant Diocesan Administration, he was first assigned to the Holy Ghost Cathedral, the headquarters of the Catholic Church in Enugu Diocese.
Rev. Mbaka decided to embark on evangelical missions in order to reach out to more people outside the cathedral. This prompted him to relocate to Capuchin and G.T.C Enugu, where he celebrated masses for the congregation and conceived of the idea of establishing the Word Prayer Centre of the Eucharistic Jesus (now Adoration Ministries Enugu Nigeria (AMEN)).
Rev Fr Ejike Mbaka's Awards
Rev. Fr. Ejike Mbaka has received numerous awards from various organizations in Nigeria and abroad. In 2018, he was honored by the United States Congress in Washington, D.C.
Moses Armstrong's Biography, Net Worth, Wiki, Wife, Age, State, and Family
Congresswoman Karen Bass presented him with the award for his outstanding humanitarian service and education awareness.
Rev Fr Ejike Mbaka's Networth 

Rev. Fr. Ejike Mbaka is one of Nigeria's wealthiest clerics. According to reports, he says he spends an average of $2 million ( 734 million) per month on charity.
Donations from politicians and other members of his ministry are among his sources of income. Rev. Fr. Ejike Mbaka is estimated to be worth $20 million.