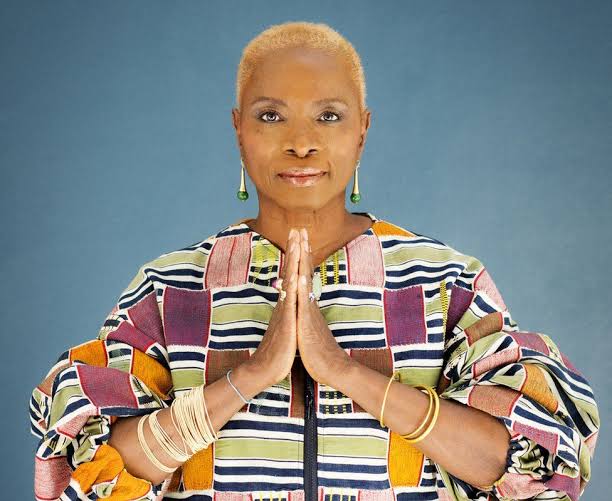 Beninese-French singer-songwriter, Angélique Kpasseloko Hinto Hounsinou Kandjo Manta Zogbin Kidjo, better known as Angélique Kidjo has been named as one of three 2023 Polar Music Prize recipients
The five-times Grammy winner was named along with Chris Blackwell, founder of Island Records in the UK, and Arvo Pärt of Estonia, the world's most performed living composer, according to a Polar Music Prize press release.
Kidjo, 63, is described by the organisers of Sweden's Polar Music Prize as "one of the greatest singer-songwriters in international music", sings her in native Fon and Yoruba languages as well as in French and English.
Time magazine describes Kidjo as"Africa's premier diva" by she is best known for her hits "Agolo" and "We We".
She will join only two previous recipients from the African continent: South Africa's Miriam Makeba in 2002, and Senegal's Youssou N'Dour in 2013.
In the press release, Kidjo said:
"To be awarded the Polar Music Prize is humbling.

"I have no words to say how important this is for me. It comes with a sense of responsibility that is bestowed upon me as an artist to continue to do great work. I will do my best to be a proud recipient of the Prize through my work as a UNICEF Goodwill Ambassador, on behalf of the children, and as an ambassador of music, to help create a world in which we can all live in peace."
The Polar Music Prize was founded in 1989 by former ABBA manager Stig Anderson; the Sweden-based Polar Music Prize has been awarded since 1992 and is considered to be among the most prestigious honours in the music industry.
Past winners include Paul McCartney (1992), Elton John (1995), Stevie Wonder (1999), Björk (2010), and Sting (2017).
The ceremony will take place on 23rd May in Stockholm where the laureates will receive their 600,000 kroner ($58,000) prize.
Angélique Kidjo career
Angélique Kidjo is a Grammy Award-winning singer-songwriter from Benin in West Africa. She was born on July 14, 1960, in Cotonou, Benin. Kidjo's music is a fusion of African traditional music, jazz, funk, and other contemporary styles. She sings in several languages, including Fon, Yoruba, and English.
Kidjo's music career began in the 1980s, and she has since released more than a dozen albums, many of which have been critically acclaimed. She has collaborated with several international artists, including Carlos Santana, Alicia Keys, and Peter Gabriel, and has also performed with orchestras and choirs.
In addition to her music career, Kidjo is a UNICEF Goodwill Ambassador and a strong advocate for various social causes, including girls' education, poverty alleviation, and women's rights. She has received numerous awards and honors throughout her career.