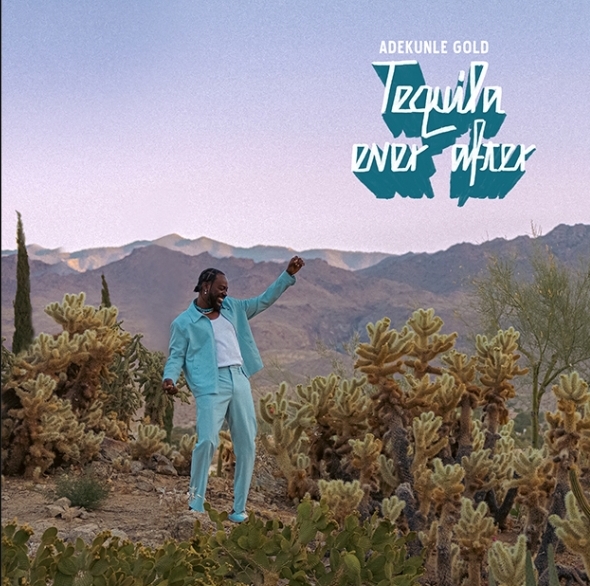 Afro-pop sensational sing?Adekunle Gold, has recalled how he trekked from Maryland to Ikeja to promote his songs' compact disc (CDs) to commuters in Lagos as he releases his 5th studio album.
The father of one who sends occasional news letters to his fans recounted some of his early struggles in the music industry.
While recalling how he got turned down with a "No" on several occasions, he advised his fans not to ever give up on their dreams.
Adekunle Gold also expressed joy and gratitude to God and noted how proud he is with himself and his team.
Read Adekunle Gold's letter below.  Its quite lengthy but worth every bit if attention!
"Where do I even start? Idecided to go to church last week for the first time since 2019, I felt great and I was really enjoying the sermon. I have no idea why I stopped going to church but it felt like I was meant to be there that day and I felt like the sermon was for me. I used to love going to church, my teenage formative years were done in the church choir, most things I know about music started from there but as I got older and busier I drifted away. Not an excuse but I know I need to do better.
"Towards the end of the sermon the pastor made a statement that cut through to me. He said, "You better remember who you are". Damn this is definitely for me, I thought to myself. It felt like God was speaking directly to me at that moment. Immediately, I started to reflect back on my journey, how I started music and just how I got to where I am today.
"I was just a young kid living with Sickle Cell, fighting for a spot in the church choir, a recognition that I never got. The church was called 'Doers of the word' in Agege, Lagos. Fast forward to now, boldly calling myself Tio Tequila, collaborating with some of the most talented people in the world and performing festivals and concerts, I've gone from being rejected to being celebrated. How did I get here? I asked myself. Why did God allow me to achieve all of this? Am I grateful enough? I am in awe of God and what he has done with me, I am a testimony.
"As I was reflecting, I noticed a young boy leading the church choir. I remember fighting so hard to lead the choir at Doers of the word and never getting that spot but look at me today. It wasn't until my parents moved us from Ifako Ijaiye to Ikotun and I met my best friend Michael that people really started paying attention to my musical ability. Michael was a keyboardist in his church and so we connected and decided to form a band called 'Another Root of Jesse' which later became 'Heavenward' then 'The Bridge'. Michael was always the more of the producer and I was the writer but we both sang.
"Then Michael got a job at Dana airline,I was still broke but I added my own 2 kobo. We gathered 150,000 Naira together to shoot our first music video in 2010. We put every single dime we made into music, we even moved to a 'boys quarter' in Lekki in 2011 to feel among and chase this music dream. I remember walking from Maryland to Ikeja to give out our CDs in traffic, we really pushed and pushed because we both knew we had something in us that the world needed to hear. Fast forward to today Michael and I are still inseparable, traveling the world together and performing in front of thousands of people. Michael produces all my live shows, that High EDM remix I've been performing at festivals this year, Michael created it, Michael produced some songs on this album and worked on almost all of the songs you are listening to right now, he's a genius and my story would probably be different without him.
"My story is one of resilience because after pushing The Bridge so much, we decided it wasn't working and broke it off. I decided to focus on being a solo artist and Michael chose to focus on production. Then I got a day job and started designing graphics. You already know that story of how I got signed to YBNL and how my first album 'Gold' blew up and did so well. The story you don't know is what really happened post YBNL. I left the label because my contract was over and I just knew again that it was time to move ahead with my life and career. I had no idea how I would do it but I recorded my next album 'About 30' and started shopping it around. 2018 was one of the most hardest years of my life, I got so many NO's that I was ready to give up. I flew to London, started connecting with people, met with labels, played my music and the rejections just kept knocking me down.
'At one of the numerous label meetings I was having in 2018, I remember playing what I thought was a life changing album and everyone in the room was on their phones, not one person paid attention to me. I walked out that day crying. I walked the whole of Oxford street crying my eyes out because I thought that was the end for me. Somehow I released that album against all odds and then the criticisms came, people bashed it so much but I thought to myself none of these people got me to where I am today and none of them should have the power to stop me from going where I want to go.
"I stayed determined despite the criticism and then in 2020 I thought what's next for Adekunle Gold? I decided I wanted to allow myself to grow, I was listening to a lot of pop music especially Post Malone and Bazzi and they started influencing the music I was making in the studio. I won't lie after the reception About 30 received I was scared about switching up my sound again but as always I knew I was the only one capable of holding myself back so I went for it. I got signed to EMI, I thought I finally found a team that would paying attention to my music and was ready to believe and invest in me. Recorded Afro Pop Vol. 1, I was so excited to share this side of me with you but something really tragic happened. I've actually never spoken about it but I'll share it with you today. Two weeks after the release of Afro Pop Vol. 1, the label I was signed to dropped me, in the thick of the pandemic, the album had just dropped. I had no financial backing, no marketing budget just me, my album and my manager at the time Niyi. There was no show money so where the hell was I going to find money to push this album? We kept asking ourselves that.
 "That situation almost broke me, we had no idea what to do, we started coming up with our own plans to push the project. I feel like Afro Pop Vol. 1 has not been exploited properly, that album is GOLD and special but now you all know why it didn't make the noise that it still has the potential to. I don't know how else I can put that feeling into words, my world was crashing down but I had to keep pushing that album with almost nothing, I had to keep going. Again resilience and perseverance got me to this point and I wasn't ready to give up. I have this crazy ability to turn my challenges into success. I've always believed that it's not the event but how your react to it that determines the outcome.
"At this point, I kept saying to myself if sickle cell could not beat me, a label dropping me or anything else can't beat me. Martina, it doesn't matter how many times you fall, all that matters is that you get back up and you keep going and moving forward. So I kept going and finally I ended up at Platoon and boy it was up from there. I recorded High, Sinner, It Is What It Is. High was one of the hottest songs in 2021 into 2022. Catch Me If You Can did well for me and I felt like it was my time again. I really have never seen a greater miracle than myself, I sold out my tour, performed everywhere, you literally couldn't catch me if you tried to.
"Then Tunji from 5 years ago reached out to me. Tunji Balogun became the CEO of Def Jam and decided that I was the next artist he wanted to sign. Remember when I said I was shopping my album around in 2018? Tunji was the only person that made an effort and paid attention to me, he was welcoming and listened to my album but he couldn't do much to sign me. He put me in touch with other people in the label that could help but none of them did. Tunji stayed in touch with me and followed my career, 5 years later as 2022 was ending, he reached out to sign me and here we are. I signed to Def Jam and together with my team we began this new phase.
"I've just released my 5th studio album Tequila Ever After. I never saw myself releasing 1 album now I have 5. I'm stunned and overwhelmed, the journey has been crazy, adventurous but beautiful and I am full of gratitude. I know this album will change my life, God has really been on my side. I wanted Pharrell and I manifested him on this album. I tried to work with Nile Rodgers on Catch Me If You Can but it didn't happen and now it has finally happened. Habib Koite, Khalid, Simi, Coco Jones, Zinoleesky, Odumodublvck, Ami Faku and every single collaborator on this album were amazing to work with.
 "I am so proud of me and my team, and I am so glad that I can share this piece of art with you.
"I did it my own way, no blueprint but I created mine, I'm dancing to my own tune. I have reached my Tequila Ever After and I hope you reach the same. Life has thrown so much at me but I'm steady 'Falling Up'.
"Cheers to TEQUILA EVER AFTER! 
Read Also; "God will do it" Actor, John Boyega unveils his favourite superstition, singer, food, movie and slang from Nigeria (video)