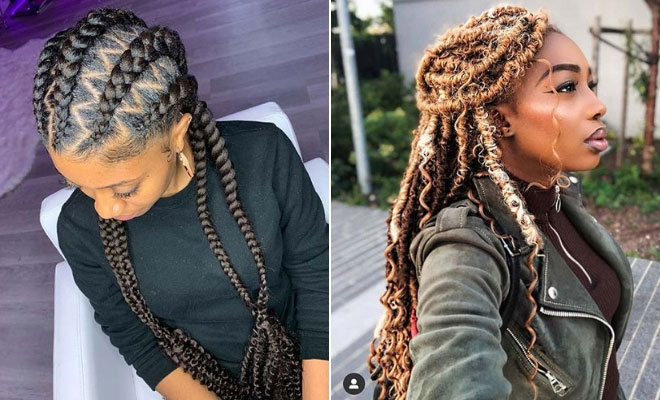 A woman's hair adds to her beauty, makes her glow and most of the time completes the perfect look.
Your hair is your crown, when you wear it well you are bound to stand out. A lot of hairstyles have come and gone…
But 2021 is looking like "the year of the hair", our hear needs some space to express itself, especially after the many hurdles of 2020 – don't you agree?
When it comes to looking pretty and having that perfect hair, money shouldn't be an hindrance because there are gorgeous easy to do hairstyles for your fancy.
So here are 5 trending hairstyle you can do yourself, to make you lit. And they'll definitely get the guys to make your detty December;
Gel Pack
This hairstyle is always on point. You can't go wrong with Gel pack. Whether its the high, middle or low one it always gives that perfect look.
Gel pack is such a very easy hair that you can do yourself. It is very flexible and can be done with any weave or any hair extention.
Tell me, what else do you need again when you have the hairstyle that has no cost, and still would turn heads when you are done.
Crochet
Crochet stormed the yards of 2020. From the different colors to the diverse styles and patterns, it deserves to be the hair of the year.
The unique thing about crochet is that it is very easy to do. You can do it yourself, all you need is your crochet weave and pin.
This hairstyle which can be turned into any style; be it braids, weave and cornrows is definitely the perfect hair to make your detty December.
Bantu Knot
This hairstyle is easy and less stressful to make. It gives an African look that enhances the beauty of a lady.
This is the ultimate hairstyle that can make you stand out any day, any time in the crowd.
All you need to do is roll in circular motion your already braided hair or natural hair and bam, you are good to go.
Twist Loc
All hail team natural. Twist loc is a unisex hairstyle that can be done by anyone at anytime. You just need to twist your natural hair to form a loc. The beauty of this hair is that it requires no money. It gives that dread lock look that makes you both chic and cute at the same time.
Clip-On Weave
Like i said 2020 has been a year of new things in every area.  Clip-on weave are not time consuming and as always easy to do yourself. All you need is the clip-on weave. Get your hair into cornrows and clip on the weave into the style you want. Simple and stylish.
Photo Credit: Getty