Can a dark lipstick ever look fresh and natural? If Zazie Beetz's BAFTAs 2020 look is anything to go by, the answer is yes. Wearing a dark hue on lips that effortlessly coordinated with her dress, Beetz's look was an elegant lesson in pulling off deep shades.
"We went for the deepest lipstick shade we could," Alex Babsky, the make-up artist behind the look, told Vogue. "It was still in the same vein as the dress, but we went deeper so the lip and dress did not completely match." The lipstick in question was Lancôme's L'Absolu Rouge Drama Matte in 508 Purple Temptation, a longwear lipstick offering a powdery matte finish.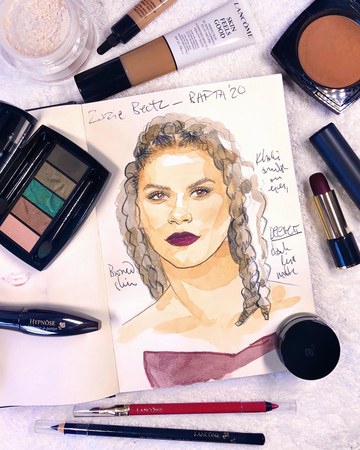 As well as finding the right shade of darkness to enhance rather than wash out Beetz's complexion, the key to pulling a lipstick like this off so effortlessly was the treatment of her skin. "We left it fresh, using a tiny veil of Lancôme's Skin Feels Good Foundation and bronzer to counter the wow moment on her lips. We wanted to let the lip and the dress do the talking," Babsky said of the look.
"We did a wash of khaki eyeshadow over the eyes and it was only after that we realised the look was focused on purple and green, which is of course the colours of The Joker [Beetz played Sophie Dumond in the BAFTA winning film, Joker]."
Source: Vogue