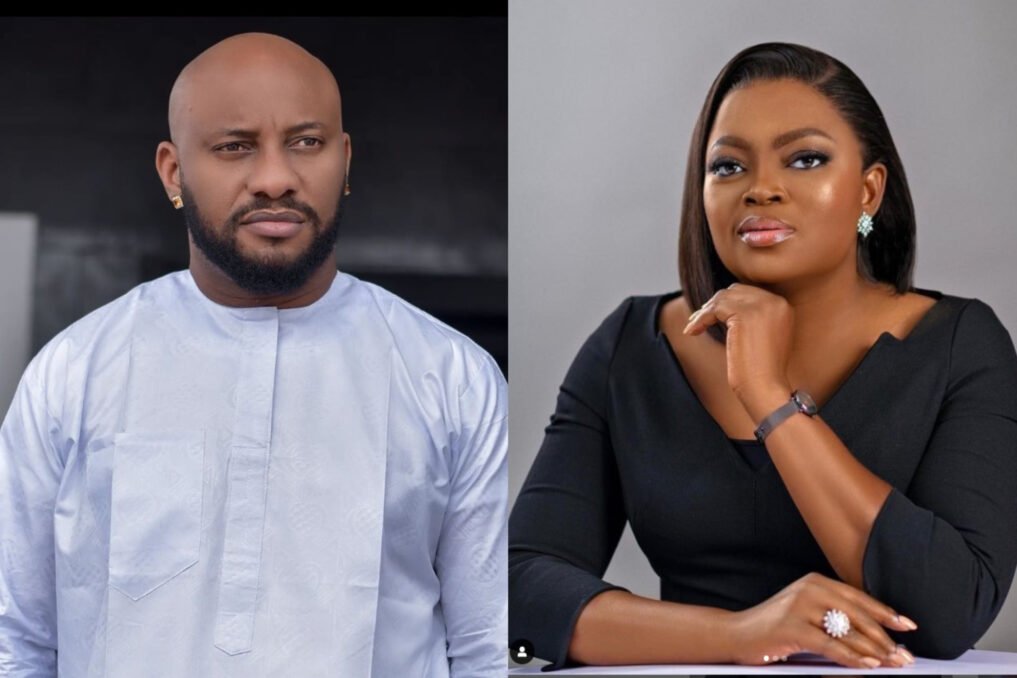 Nollywood actor, Yul Edochie has penned a heartfelt message to his colleague, Funke Akindele following her loss at the just concluded gubernatorial elections in Nigeria.
Glamsquaed reported that Funke Akindele contested as deputy governor in Lagos State, alongside her principal, Olajide Jandor under the Peoples Democratic Party (PDP).
However, the mother of two lost her polling unit 019, Ita Aro square, Àga/Ijimu ward in Ikorodu to the incumbent governor, Babajide Sanwo-Olu of the All Progressives Congress (APC). Read here  
Taking further action following her loss, Funke Akindele who seems to be more focused on her acting career deleted all political campaign posts from her Instagram page. Read Here 
As a concerned colleague and one who once contested to be the president of the Federal Republic of Nigeria, Yul Edochi took to his Instagram page to share words of wisdom with Funke Akindele and also commend her bravery.
The father of five shared a picture of Funke Akindele and advised her to return the pictures of her campaign to her page as they would serve as a reminder of her success and scars in battle.
According to Yul, Funke Akindele's name on the ballot is a feat which many who mocked her have dreamed of achieving. He also reminisced about his process of contesting as a governor in his state, which he lost and his dreams of becoming a president.
He wrote:
"To my dear colleague, @funkejenifaakindele I want to congratulate you for the bold political step you took, running for Deputy Governor of Lagos State. You did great.

"I noticed you deleted all your campaign pictures from your Instagram page. Of course, I can't sit in my house and know your reason for doing so, neither is it my business. But as a concerned colleague and friend, I want to encourage you and, through you, encourage others out there.

"A warrior is always proud of his or her battle scars. The scars are proof that he or she went to battle and came back alive. You're a warrior. Your campaign pictures are part of your battle scars. Wear them proudly. Those pictures deserve to remain on your page forever. It's a historical moment for you. A rare privilege.

"No matter what anybody says to you. Don't be discouraged by those who are laughing at you for not winning. Na childish brain dey worry dem. Cowards will always laugh at the brave ones. That's the only way they console themselves for being cowards. When they grow up they'll laugh at themselves for not having the courage to try what you did.

"There are no failures in life as long as you never give up. It's either you win, or you learn. The person who fails is that person who has not tried at all. Out of the millions of Lagosians, you were picked to be the Deputy Governorship candidate. It's a human and spiritual honour to be given the opportunity to serve the people. It marks the beginning of your political journey. Never give up.

"In 2017 I ran for Governor of my state, from start to finish, and it's one of the best things I've done in my life. One of my proudest moments. I learnt a lot. My campaign pictures are still on my page, my battle scars. I wear those scars proudly. And I'll never give up. One day I'll be the President of Nigeria.

"Funke, you will sit in your office someday as Deputy Governor or Governor or President and look at your first campaign pictures, and you'll have tears of joy in your eyes. You will be proud of your journey. Never give up. I wish you the very best. May God lead you always. Cheers."

Read Also: "No regrets" Funke Akindele breaks silence after losing Lagos gubernatorial election