Embattled Nollywood actor, Olanrewaju Omiyinka, better known as Baba Ijesa be may in prison, but he has not been forgotten.
His colleague, Yomi Fabiyi who has been strongly supportive has proved once more that he is an unchanging ally as he celebrates Baba Ijesha's birthday, 28th October 2022.
Yomi Fabiyi took to his Instagram page to share a photo of the embattled actor accompanied by a heartwarming caption.
Read Also: Fans celebrate rapper, Falz on his 32nd birthday
He wrote,
"Happy Birthday Lanre Omiyinka @babaijesha Best birthday wishes and may the blessings and prayers that go with ones birthday come through for you soon and in future guide you in choosing your friends and those you move close to.

"Ile Aiye Ogun ni (this life is war). There are some people the day you start friendship with them is the day one has jam agbako. May God not let our children choose wrong friends. And who we will offend but not forgive, may God not let us or your children run into them".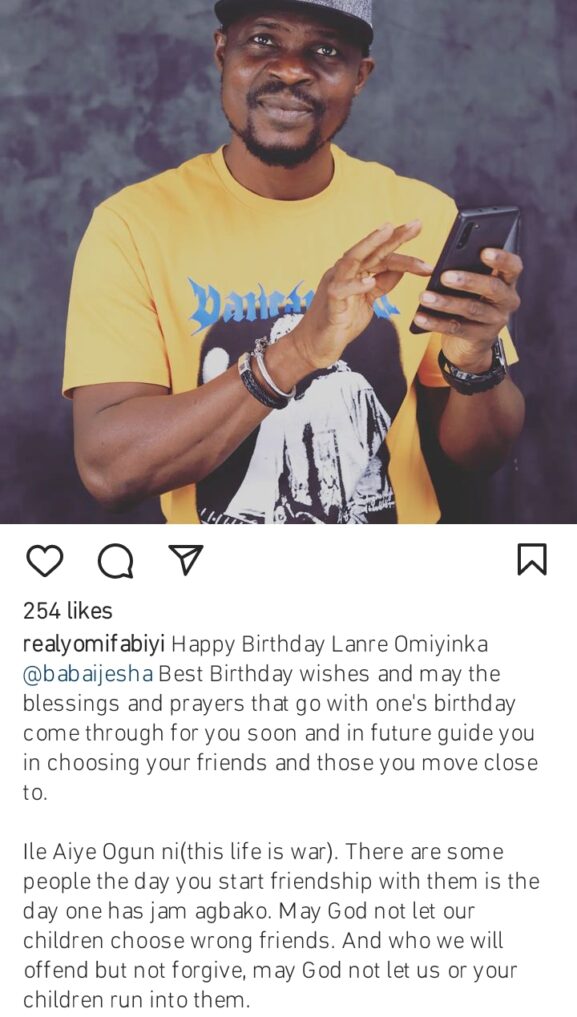 Glamsquad reported that the embattled actor bagged five years imprisonment for raping the 14-year-old daughter of his colleague, comedienne, Princess.
After over one year of his arrest and prosecution, an Ikeja Special Offences Court convicted him of sexually assaulting a 14-year-old minor.
In a two-hour judgement, Justice Oluwatoyin Taiwo convicted Baba Ijesha of indecent treatment of a child, sexual assault and attempted sexual assault
The judge, however, discharged and acquitted him of counts one and count six, which were: sexual assault by penetration and attempted sexual assault by penetration.
He was thereby sentenced to 16 years imprisonment but would face only 5 years consecutively.
Yomi Fabiyi, who was present in the courtroom, spoke to the media, where he clamoured for the actor to have a right to appeal.
He stated that Baba Ijesha still had ample opportunities to challenge the ruling of the court until he had exhausted all his limits.
He also demanded for Princess be punished for parental negligence. He was however dragged for supporting Baba Ijesha.
Read Also: Blessed to have written this song – Tems appreciate collaboration with Rihanna