Beautiful TV personality and current cover girl of Today's Woman Magazine, Stephanie Coker said 'I will' yesterday.
Glamsquad can authoritatively confirm that she is now officially engaged and plans are on for the wedding ceremony. Did someone just ask 'so fast?' Yes, so fast o.
The beautiful On Air and Television Personality is yet to comment on the pictures showing a genuinely surprised Stephanie with hands over mouth in shock, flaunting a lovely diamond ring while a handsome young dude looks on in admiration; but a call to a very close and trusted source confirms that it really is true.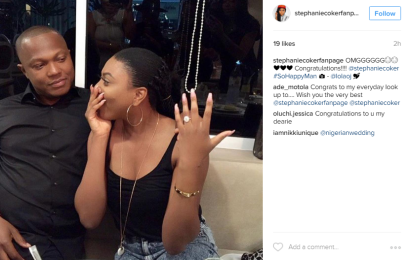 There is no doubt that this is great news for both Stephanie, her family and fans.
The charming Steph was a VJ with MTV for a long period before recently featuring on The Voice Nigeria (after seeing out her contract with MTV.)
When asked what her next step was going to be in a recent interview, covered in smiles she said 'just watch out!'
Congratulations Steph, from all of us at Glamsquad Magazine.